Finding and Sharing Your Instagram URL
Sharing photos, videos, and other content with your followers is the essence of Instagram. That ubiquitous "Share" button is your account's lifeline. But it's one thing to engage your audience through the content you share so they appear on your followers' respective news feeds; it's another thing to make people interested enough in what you have to say that they flock to your profile page to learn more about you and see more of your content.
Sharing the direct link to your Instagram account, or your Instagram URL, is a great opportunity to drive traffic to your profile; you can strategically place the link in your blog post or an IG post, or share it privately with select individuals via private messaging or email. Providing your URL, especially when you're running a business, also gives your followers/customers a direct means to reach out to you for any inquiries or concerns. You may also need to know your IG URL to access certain services, such as third-party apps.
So how do you find your Instagram URL?
Locating Your Instagram URL
URL stands for "Universal Resource Locate." Much like a website URL, your IG URL serves as your digital address, so to speak.
Instagram was originally created to be accessed exclusively through mobile devices. As the social media platform's popularity exploded, making it available on computers was the next natural step in its evolution. Depending on whether you're using Instagram on a mobile device or a computer, finding your IG URL will involve different routes. 
Finding your Instagram URL on a mobile device
If you're accessing Instagram on a mobile device, regardless of your operating system, your IG URL will follow this format: Instagram.com/username. Typing this out may be a tedious task and there's also the risk of making a typo (without you realizing it) and posting a URL that does not work (or, worse, that leads to a different profile). You can follow these steps instead.
Launch the Instagram app.
Go to your profile; you'll find your profile icon at the bottom right corner of the screen.
On your profile page, copy your username by highlighting it and pressing CTRL+C.
Open the notepad app in your phone, type "Instagram.com/" and paste your username immediately after it by pressing CTRL+V, i .e., Instagram.com/johndoe.
Save the notepad entry.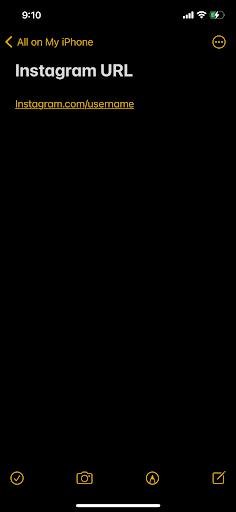 Any time you need to post your IG URL, just copy it from your notepad and paste it to your post.
Finding your Instagram URL on a computer
If you're on a computer, manually inputting your IG profile URL (by following the format mentioned above) into a browser also works. Or you can follow these steps.
Open your preferred browser on your PC and go to Instagram.com. Alternatively, you can launch the Instagram app if you have already downloaded it on your PC.
Log in to your account.
Click on the profile tab, which you'll find at the bottom right corner of the screen; or click on your profile picture at the top right corner of the screen.
On your profile page, simply highlight the URL in the address bar and then copy it.
Open your notepad, paste the URL, and then save your notepad entry.

Finding another account's Instagram URL
You can follow the same steps outlined above if you need to find the URL of other Instagram accounts. But here's another way to do it.
On your newsfeed, click on the person's/company's username. This will take you to their profile page.
At the top right corner of the screen, you'll find "three dots." Click on these to launch the pop-up menu.
You'll be presented with several options, including "Copy Profile URL." Tap on this option.
You can paste and save the URL on your notepad, if you'll need it for future use, or immediately share it with others via a post or private message.
Finding an Instagram post's URL
Reposting another account's post is usually done by clicking on the "Share" button. You can also share a post by using its specific URL. This may be useful when you need to share the IG post in your blog, via an email, or on another social media platform's news feed or via its messaging tool.
Here's how to find a post's URL.
Go to the post you want to share and tap on the three dots located at the top right corner of said post.
From the pop-up menu that appears, select "Share to…"
You'll be given different sharing options, including the option to "Copy to Clipboard." Select this and the post's URL will be copied to your clipboard.
You can paste and save the URL in your notepad, or post it directly anywhere outside Instagram where the link is allowed and will be clickable.
Keep in mind that not all Instagram accounts allow sharing of their posts or profile links. Private accounts usually restrict the shareability of their posts and profile. In some cases and depending on an account's privacy settings, their followers can share their posts or obtain their profile link to share with others.  
Connect with over
75,000 instagram Marketers
Get the latest tips, tricks and strategies to grow your IG
Can You Customize Your Instagram URL?
There are several reasons why you may want to customize your Instagram URL. Perhaps you just realized that you don't like it, but customizing an Instagram URL is typically done when a personal account is converted into a business account. Having the business name included in the profile URL is, of course, the ideal option.
Changing your profile URL, for whatever reason, involves changing your Instagram username to whatever you want to appear on your URL. Remember that the profile URL follows a specific format; once you've changed your username, your URL will automatically be updated.
But you should also know that when you change your Instagram username and URL, your previous URL becomes invalid. This means that the old URL you shared on your previous posts (inside and outside Instagram) will no longer work. You will have to update all of these posts with your new URL.
If you still wish to proceed with a new and improved profile URL, just follow these steps.
Go to your Instagram profile page.
If you're on your phone, click on your profile photo to open the "Edit Profile" option; if you're on your PC, click on the settings icon at the top left corner to access the "Edit Profile" option.
On the Edit Profile page, you'll find the option to edit your username.
Just type your new username, confirm the change, and save the changes. Make sure your new username and URL is short enough and easy to remember. Keep it simple and relevant to your brand; don't add any special characters or symbols.
Final Thoughts
The Instagram profile URL is an oft-ignored feature, but it can be an effective tool to promote your brand and drive traffic to your page. Finding your profile URL is fairly easy; save a copy of it on your notepad so you can easily grab it any time you want to share it in your story, on a post, in a private message, or in an email. Similarly, you may be able to grab and share another profile's URL as long as the account owner permits it. Sharing Instagram posts can also be done by grabbing the post's URL.
If it suits your business or brand, you can customize your profile URL by first changing your IG username. Just remember that you will have to update all your past posts where you shared your old URL, as it will no longer link back to your profile.
Want More
Real

Instagram Followers?