How to Get Verified on Instagram: What You Need to Know to Claim the Blue Seal of Authority
The highly coveted blue checkmark on Instagram is not given to just anybody. Knowing how to get verified on Instagram will help you attract more Instagram followers, generate higher engagement for your account, and achieve all your other Instagram goals. Here's everything you need to know to get the distinguished verified badge.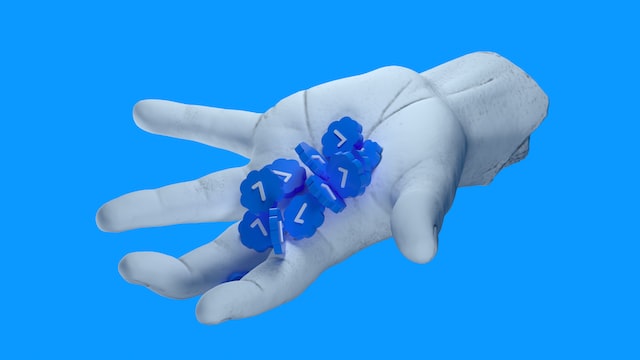 What Does Getting Verified on Instagram Mean?
When you get verified on Instagram, you receive the blue check next to your account name on your profile page and even in searches. Getting verified means that "Instagram has confirmed that an account is the authentic presence of the public figure, celebrity, or brand it represents."
The verified badge helps people identify the real accounts of brands and public figures. This ensures accounts with the IG blue check mark are who they say they are. Plus, the verified account proves that a particular brand or public figure shares all of the content.
The Instagram verification badge separates an authentic account from accounts that may have a similar name or from fake accounts on the platform. However, note that not all brands and public figures are Instagram-verified. Instagram also clarifies that the verified badge does not serve as an endorsement by the platform or a symbol of importance, authority, or subject matter expertise.
How Many Followers Do You Need to Get Verified on Instagram?
You may wonder how many followers you need to get verified on Instagram. Fortunately, a minimum number of followers is not a requirement for verification. As per Instagram's latest update on their verification application process, the requirements to apply for a blue check on Instagram are:
Your account must represent a real person, registered business or entity.
Your account must be the unique presence of the person or business it represents. Notable entities (for example pets or publications) are also eligible.
Only one account per person or company may receive verification, with exceptions for language-specific accounts.
Your account must be public and have a bio, profile photo and at least one post.
Your account must represent a well-known, highly searched-for person, brand or entity.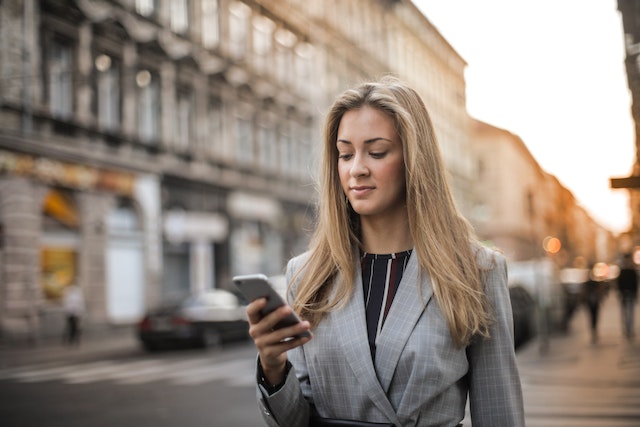 How Does the Verification Process Work?
Here are the steps for how to get verified on Instagram:
Log into the account for which you're requesting a verified badge.
Go to your profile, tap the hamburger icon, and then tap "Settings."
Tap "Account," then tap "Request verification."
Enter your full name and provide the required form of identification (i.e., government-issued photo ID or official business documents).
Follow the on-screen instructions.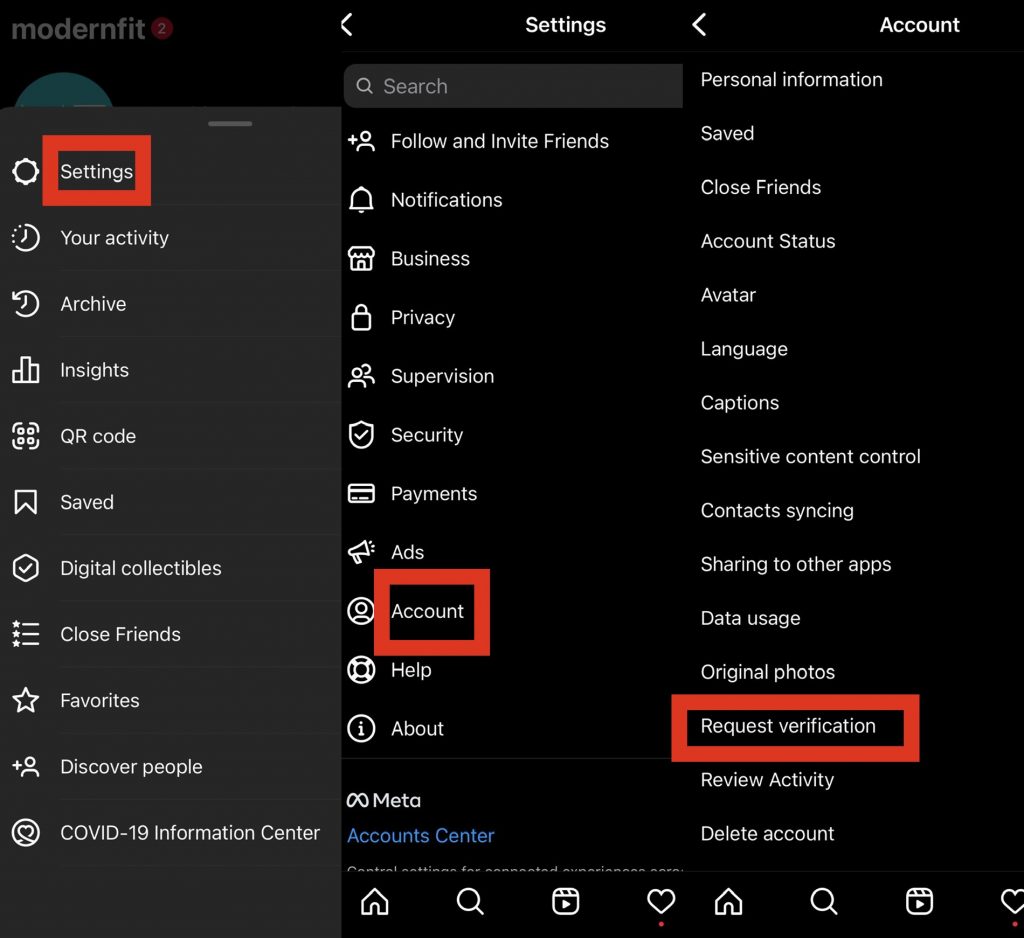 When your account is Instagram verified, you can no longer change your username. You also can't transfer your verified badge to a different account. A verified Instagram account does not automatically verify the Facebook account associated with it.
How Does Instagram Verify Accounts?
The process of getting verified on Instagram involves a review of multiple news sources. They include "more diverse outlets including those from additional Black, LGBTQ+, Latinx media, and including more outlets from around the world." Instagram does not consider paid or promotional content a news source.
The latest updates on the Instagram verification application process also allow applicants to share information about their audience and the region they're most popular in to help verify their "notable" status. They can also provide up to five news sources as proof of eligibility.
How Long Does It Take To Get Verified on Instagram?
According to Instagram, it may take up to 30 days after you send your application to get verified on Instagram or to receive a notification that your application was not approved. If IG denies your request, you can send a new application in 30 days.
Keep in mind that eligibility for verification does not guarantee that Instagram will approve your application. Do not send multiple verification applications while your initial request is in process, or your application may get canceled.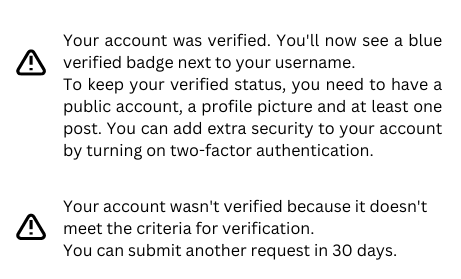 If you're wondering how to verify your business on Instagram, take note that Instagram currently only confirms brands with a proven notable or high-profile presence online. Learning how to reach out on Instagram and engaging with others outside your brand's feed will create a more substantial brand presence on the platform. You can still send a request for verification by following the steps below if you meet the eligibility requirements mentioned above.
Go to your profile and tap "Menu."
Tap "Settings," then "Account," and then tap "Request verification."
Fill out the form and submit your application for review.
How Do I Improve My Presence on Instagram for Verification?
Was your case denied? Aside from knowing how to get verified on Instagram, there are other ways to make your business stand out on Instagram and let people know that your account is authentic and trustworthy.
Use your bio section to share essential information about your business. Link to your Instagram account from your official website and other social media pages. Follow Instagram users that follow back by engaging with other content creators. Directly liking and commenting on their posts is a friendly way to introduce yourself and your brand.
Establish credibility by regularly posting stories and sharing raw and behind-the-scenes content with existing and potential followers. Learn how to mass unfollow on Instagram without getting banned to keep consistent engagement numbers. Sell products directly on the platform through Instagram Shop, where you can build and manage your digital storefront. Encourage your customers to tag your business in their posts. Learn how to advertise on Instagram to strengthen your presence on the platform.

How to Get Verified on Instagram Without an ID: Is This Possible?
Unfortunately, you can't get verified on Instagram without any proof of identity. Getting verified is about proving your identity, after all. Exploring the option of buying a verified badge might be tempting, but you must heed Instagram's warning regarding such an action:
"If we find that verification was acquired in a malicious way, or that an individual is selling verified accounts to others, we will take action. We conduct regular sweeps both on and off the platform to find and remove malicious actors from Instagram."
That's right. IG accounts cannot buy Instagram verification. Likewise, you should absolutely not submit falsified government documents. It bears repeating that any malicious and deceptive attempt to get verification, including providing false or misleading information, will have dire consequences. Your request will not only be denied; your account may be deleted as well.
How to Get Verified on Instagram and Get the Blue Checkmark Checked Off Your List of Goals
Knowing how to get verified on Instagram is the easy part; getting approved is a whole other story. Getting the highly coveted blue seal of authority comes with a certain prestige. The IG blue check mark is a status symbol. It's a membership to an exclusive club of online and real-world "notables." A verification badge gives you more pull and staying power on the viciously competitive platform.
If you want to increase your odds of getting verified, it's a given that you must make sure you meet all eligibility requirements. And make PR a priority for your brand. Ensure you are posting according to Instagram's daily limits and learn when to unfollow on Instagram to respect those limits. Find out how to get featured in the local news, prominent blogs, and even on the social media pages of notable brands and businesses. You literally have to make a mark online to prove to Instagram that you deserve verification. This may lead you to ask about how to get 1K followers in 5 minutes to boost your IG account, or a 1000 free Instagram followers trial. However, the best way to Insta verification is through natural growth over a longer and more reasonable period of time than five minutes.
A great way to establish a solid presence on the platform is with the help of an expert in social media growth strategy. One of the best Instagram followers apps is Path Social which engages in organic growth through authentic followers. Leverage Path Social's advanced AI targeting capability to find real and genuinely interested followers. Let their in-house team of social media specialists put your content in front of the right audience to generate quality engagement. Models love using Path Social because they offer a full suite of social media management tools that will help your brand achieve "notable" status so you can claim that verified badge. Start growing and gaining Instagram followers today!