Grow Business Instagram Strategies for Every Niche
Instagram has become a one-stop online shop for digitally savvy consumers. Want to go clothes shopping? You can find your favorite stores and new brands on Instagram. Are you looking for a new place to eat? Check out the local favor-eats on Instagram.
Are you interested in the latest beauty trends and products? Find out what your favorite Instagram beauty influencers are using these days. There's a market on the platform for your product or service. You just have to know how to find and reach your target audience. Here are strategies for how to grow your business on Instagram.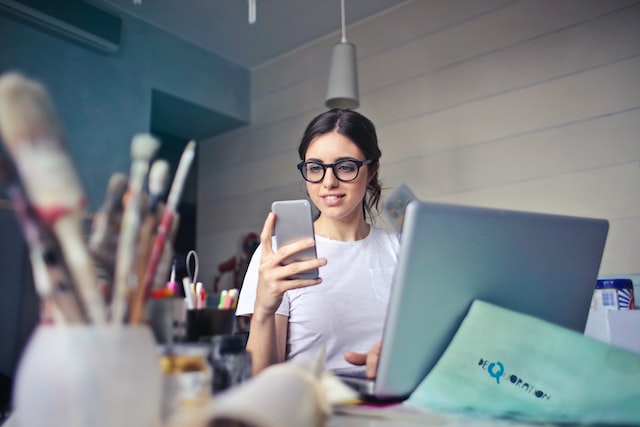 Tips and Tricks on How to Grow Your Instagram Business Page Organically
Learning how to grow your Instagram business page organically requires answering the following questions:
How do you make your business come out among the top results when potential customers perform a search within your niche?
How can you persuade these potential customers to check out your page?
How can you encourage them to hit your follow button?
How can you keep them interested and engaged?
To grow business Instagram audiences, you must be able to reach them first. Making your target audience aware of your presence is often the hardest step. It's because of the fierce competition for prime spots on people's feeds. Once they know about you, your next task is to keep them interested. Users will follow and engage with you and eventually buy from you or use your services. You can organically grow your business on Instagram with the right combination of different strategies.
Try the following strategies to widen your reach and boost your organic growth!
Optimize your Instagram username, name, and bio for searches. This means using the most relevant keyword/s for your niche, having a catchy and memorable handle, and adding a link to or using a creative caption for your bio.
Identify who your target audience/market is. Aside from specifying their demographics, you should also identify relevant interests and needs and typical online behaviors. For example, what content do they frequently consume and engage with? When are they most active on Instagram so you can time your posts perfectly?
Actively engage with your audience. How much you engage with your audience via comment likes, replies, and your responsiveness to messages impacts your visibility among your followers and beyond.
Use tried and tested ways to influence the behaviors of potential new followers and customers. Run Instagram contests, offer promos and discounts, use WiFi marketing, and other creative ways to grow business Instagram followers.
How to Feature Your Brand and Products/Services on Instagram
You have to sell your brand to grow business Instagram followers and potential customers. Try these ideas for size!
Post regularly. Make sure your brand is part of your target audience's regular routine when they spend time on Instagram.
Take your audiences behind the scenes. Give them an intimate look at your process, whether how you set up your products for a photo shoot, your trip to a featured location, or similar raw content.
Create Story Highlights for each product/service. This will make browsing through your posts easier based on what your followers/customers are interested in.
Keep learning different ways to create beautiful photo compositions. Don't be afraid to experiment. Keep an eye on your performance analytics to determine which styles appeal most to your audience.
How to Grow Your Brand on Instagram
Different target audiences/markets usually require different marketing strategies to grow business Instagram followers and revenue. Let's look at how to grow your brand on Instagram for various niches.
How to Grow Clothing Business on Instagram
Although online influencers and influencer marketing began way before social media was born, it was on Instagram that the influencer trend became fashionable in every sense of the word. According to Statista, Instagram is the leading social media platform for influencer marketing worldwide. Another Statista report reveals that the lifestyle industry has the biggest share among Instagram influencers.
Fashion and apparel brands are huge contributors to this industry, and you'll find most of these brands on Instagram. Celebrities and influencers have been starting their own fashion lines to get a piece of this very lucrative pie!
Here are strategies you can use to grow business Instagram audiences for your clothing brand.
Make your posts shoppable. Allow your customers to shop directly through your feed posts and stories through product tags. The Instagram Shopping feature will also help potential customers discover you through the Instagram Shop tab.
Define the lifestyle that your brand represents. For example, @nike focuses on athletes and their stories, while their other account, @nikerunning, is more targeted toward running enthusiasts. Make sure the lifestyle you want to target and promote is always represented in your posts. The clothing brand @Mate is all about "organic essentials" and "dressing clean for the planet."
Highlight product features. This is a good way to make your brand stand out and to effectively add variety to your content. This is also a good opportunity for you to effortlessly switch between promotional and informative content.
Finally, use these top Instagram hashtags based on the keyword "fashion" to inspire the content you create for your clothing brand:
#fashion, 1B+ posts
#fashionblogger, 160M+ posts
#fashionista, 132M+ posts
#fashionstyle, 102M+ posts
#fashionable, 40M+ posts
#fashiongram, 37M+ posts
#fashionphotography, 30M+ posts
#fashionblog, 28M+ posts
#fashiondesigner, 28M+ posts
#fashionweek, 27M+ posts
#fashiondiaries, 27M+ posts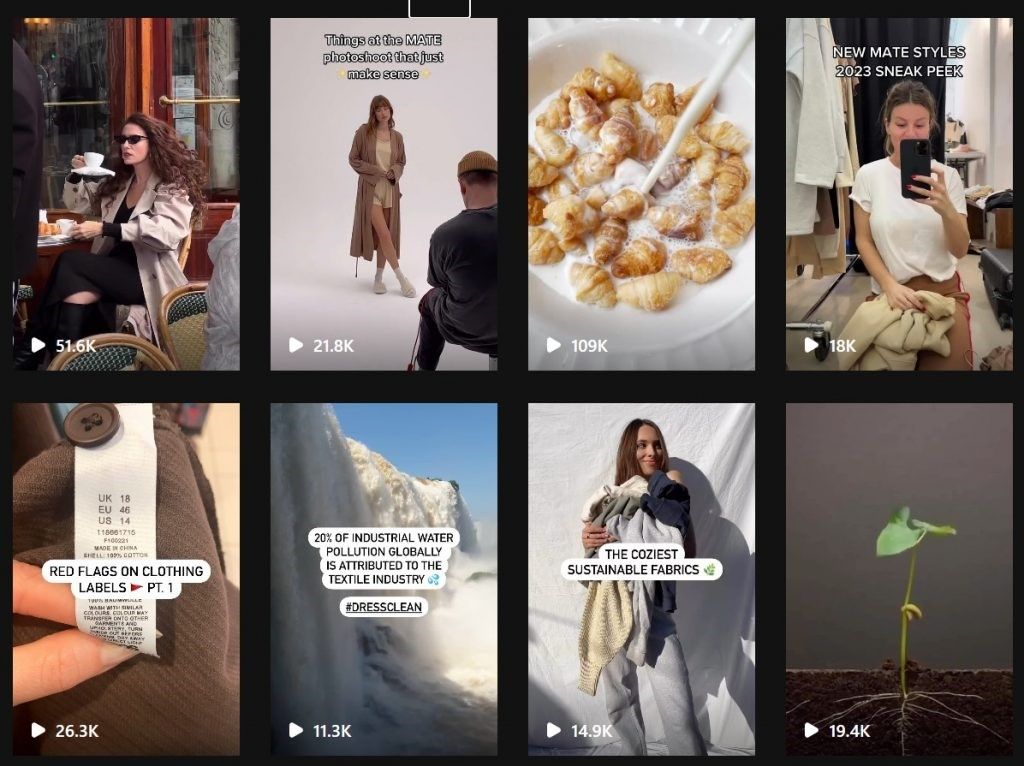 Clothing brand @Mate's Instagram page which showcases the sustainable lifestyle they're trying to promote and the perfect balance of promotional and informative content.
How to Grow Jewelry Business on Instagram
Dazzling users is key to growing your jewelry business on Instagram. Jewelry is no longer considered just a luxury item. Jewelry is also a fashion piece, or it can be culturally, artistically, or sentimentally symbolic. How you grow business Instagram followers for your jewelry brand will mostly focus on your target market, more specifically, the type of persona for whom your jewelry is designed.
For example, your jewelry line uses precious stones, and your designs mix and match different gems according to what each piece symbolizes. You can build your brand around the unique and personalized aesthetic of each piece of jewelry you finish. You can create a piece consisting of pearls and lapis lazuli beads to represent the purity and calmness of the ocean.
In contrast, when you check out @Bulgari's page, you will get a clear sense of the "dazzling, fascinating, joyful, and iconic" novelty and luxury timepieces they offer.
High-quality images are also important for a jewelry business on Instagram. Make sure your photos do justice to the dazzling beauty of your jewelry pieces. Post-close-ups to highlight the intricate details. And take pictures of your jewelry worn to complete the overall aesthetic you wish to convey.
Based on the keyword "jewelry," these are the top hashtags you can use in your posts or to identify what your target audiences are interested in:
#jewelry, 100M+ posts
#handmadejewelry, 34M+ posts
#jewelrydesigner, 15M+ posts
#jewelryaddict, 12M+ posts
#jewelrydesign, 11M+ posts
#instajewelry, 11M+ posts
#jewelrygram, 10M+ posts
#fashionjewelry, 10M+ posts
#finejewelry, 7M+ posts
#jewelrylover, 5M+ posts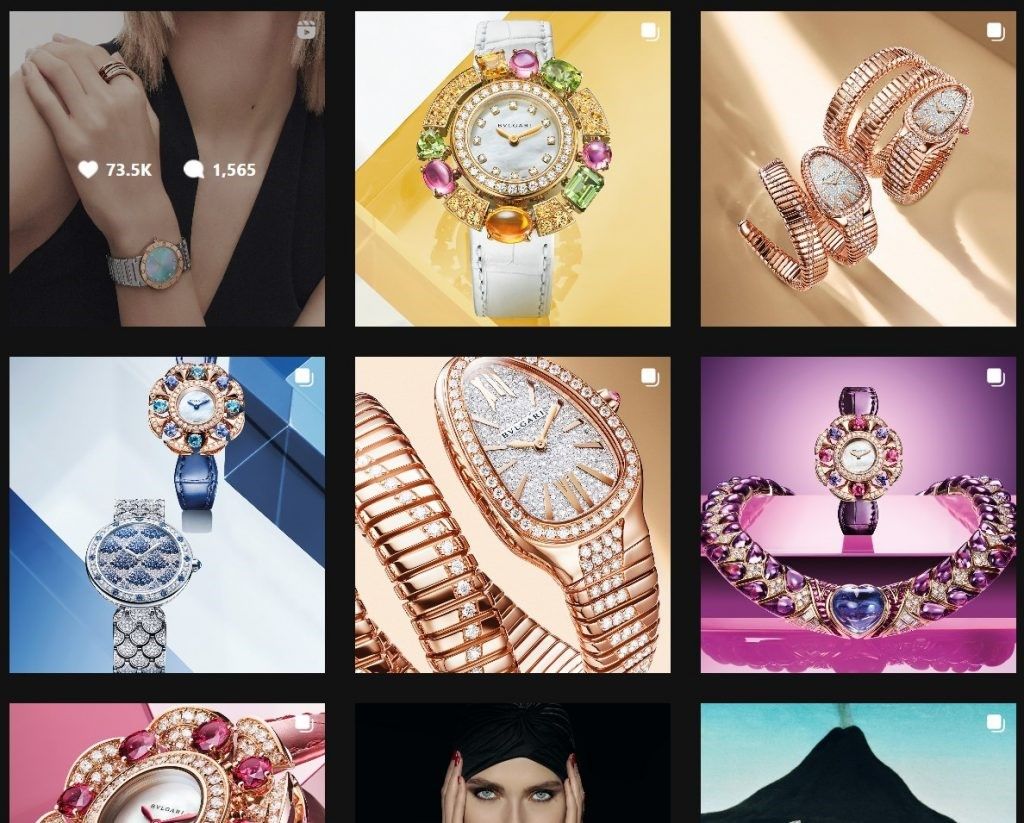 Official Instagram page of @Bulgari showcasing timeless luxury.
How to Grow Your Beauty Business on Instagram
Another report from Statista reveals that, in the U.S., Instagram is dominated by female users. Of the more than 160 million users in the country, 55.6% are women. This number represents a massive target market for beauty brands on the platform. But skincare and grooming products for men are also in high demand.
From celebrity skincare routines to makeup tutorials, here are tips to help you grow business Instagram followers for your beauty brand and turn those follows into engagement and revenue.
Make tutorials a regular on your page. Audiences who are interested in all things beauty are obsessed with tutorials. You can create your own featuring your products. You should also share tutorial videos posted by influencers and celebrities, even if they're not using your products. Ensure your shared content is always relevant to your target audience's interests.
Actively engage with your audience. Replying promptly to comments and messages will help you gain even more engagement and higher visibility. Commenters on beauty posts are often genuinely interested and are great candidates for conversions and repeat engagement.
Share user-generated content. For beauty brands, UGCs are essential in building brand awareness and providing proof of product quality. Encourage your customers to share their experience with your products on their social media. Remind them to tag you and ask for permission to share their post.
Here are the top hashtags using the keyword "beauty" to give you an idea of what people are looking for:
#beauty, 500M+ posts
#beautytips, 10M+ posts
#beautybloggers, 9M+ posts
#beautyblog, 8M+ posts
#beautysalon, 7M+ posts
#beautycare, 7M+ posts
#beautyaddict, 5M+ posts
#beautyful, 5M+ posts
#beautyproducts, 4M+ posts
#beautyinfluencer, 3M+ posts
Official Instagram page of @laneige_us showing a mix of how-to videos and product features as a way to grow business Instagram followers.
How to Grow Your Real Estate Business on Instagram
Instagram's photo-centric format naturally lends itself to accessible, high-quality digital real estate portfolios. Getting a potential buyer to step inside a property offers higher odds of closing a sale. On the other hand, reaching your target market on Instagram allows you to narrow your prospects to be serious and genuinely interested buyers.
Take note of these tips to help you grow your business on Instagram presence for your real estate business.
Make an incredible first impression with stunning, high-quality photos. Hiring a professional is an investment that will give you great returns. But if you want to DIY, you should invest in a good DSLR camera, lighting equipment, and a tripod. You can also opt for a high-end camera phone designed for impressive, professional photography. You should also consider buying a phone camera lens.
Show your property from different angles and at different times of the day. Potential buyers want to explore every area of the property. Clicking through your photos is a convenient way for them to do just that. Make sure to highlight the best features of the property.
Create a walking-tour video of the property. This takes more work, but some buyers prefer the "immersive" experience videos deliver.
Post before and after photos. These are great for flipped or renovated houses, showing how much value a buyer will get for their money.
The top hashtags using the keyword "real estate" reveal what you should focus on when creating content to grow business Instagram sales for your real estate business.
#realestate, 83M+ posts
#realestateagent, 21M+ posts
#realestatelife, 6M+ posts
#realestateinvesting, 6M+ posts
#realestateinvestor, 4M+ posts
#realestatebroker, 2M+ posts
#realestatetips, 2M+ posts
#realestategoals, 2M+ posts
#realestatephotography, 2M+ posts
#realestateexpert, 1M+ posts
How to Grow Your Hair Business on Instagram
To grow your hair business on Instagram, you must establish yourself as a hair expert. Whether you're offering hairstyling services or hair products, maintaining a high customer retention rate and bookings is critical to maintaining good profit margins. Give these strategies a go to grow business Instagram followers and customers for your brand.
Post regularly. At the same time, know the best times to post to reach your followers when they're most active on the platform. This is important to ensure top-of-mind brand awareness among your existing customers and potential new ones.
Post before and after photos. These are ubiquitous on pages for hair products and hair salons because they're a must. Customers need to see the quality of your work, and before and after pics are proof of it.
Stick to your brand's aesthetic. While different customers wear different hair colors, you can still find a way to achieve consistency or a balanced and complimentary variety in your grid's color theme.
Create beautiful photo compositions. This involves perfectly lining up your photos and ensuring they're straight when posted. Ensure the right dimensions, angles, and orientation for each shot; and have good lighting.
Feature your glam squad. If you have a team, feature them in live streams and reels to show off their skills.
Schedule online consultations. This is an effective way to directly engage with former clients. Encourage them to avail of your services/products again and with potential new ones. This is also a great opportunity for you to demonstrate your expertise and amazing customer service.
The top 10 hashtags using the keyword "hair" are:
#hair, 200M+ posts
#hairstyle, 90M+ posts
#haircut, 61M+ posts
#hairstyles, 50M+ posts
#hairstylist, 43M+ posts
#haircolor, 40M+ posts
#curlyhair, 37M+ posts
#hairdresser, 21M+ posts
#haircare, 17M+ posts
#hairextensions, 13M+ posts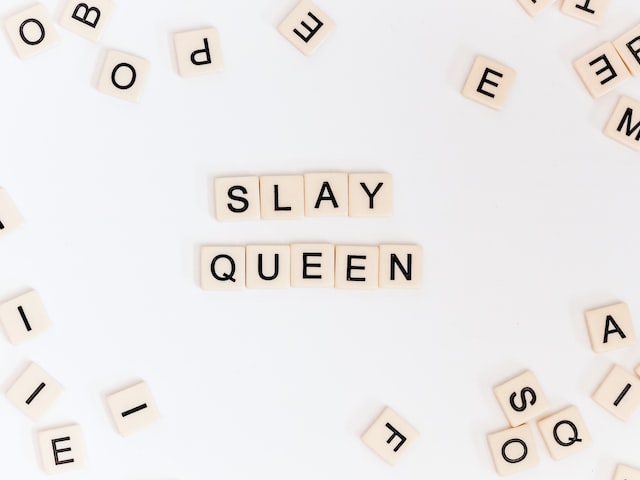 Team Up With the Best Instagram Growth Companies
Whatever niche/industry you're in, teaming up with the best Instagram growth companies can further grow your business on Instagram.
Instagram reports that 90% of Instagram users follow at least one business profile. That translates to 9 out of 10 people following at least one brand. This could be your brand with the help of a good growth company.
There's no shortage of potential new followers and customers on the platform. But reaching them is another story. The competition for a spot on the feed of a target audience is extremely fierce. Among the more than 1 billion active Instagram users are 200 million businesses fighting for attention. This is why precise audience targeting is crucial in social media marketing.
Instagram growth companies can help grow business Instagram followers and engagement. These companies help grow revenue by tracking down the right people for a brand and putting the brand's content in front of them. When choosing a growth company to partner with, make sure they don't use bots and/or fake accounts to boost their clients' follower numbers. Find out if they understand the value of organic promotion and how they track down real users who are the right fit for your business.
Taking the Right Step for Lasting Growth
You can take many roads to grow business Instagram presence and followers. Don't take the shortcuts offered by so-called growth companies that sell followers. Prioritize the quality of followers over high numbers made up of non-engaging and most likely bot or fake accounts.
Team up with a trusted Instagram growth service. Rest assured that you'll get organic growth with genuine users interested in your brand. With a growth service, doing the heavy lifting involved in tracking potential new followers and promoting your content. You'll have more time to focus on creating great content.
Path Social is a growth service trusted by over 20 thousand Instagram brands. The company uses precise audience targeting to deliver lasting Instagram growth. Path Social uses a proprietary advanced AI technology that works for any niche and industry, like Instagram's audience-targeting algorithm. With the help of their advanced audience targeting capabilities, you'll get followers who will stick with you for a long time and deliver quality engagement repeatedly.
The next step in the process, which further delivers meaningful growth, involves Path Social's in-house social media specialists and a vast network of Instagram influencers. These people do the hands-on work of organically promoting your content to your target audience.