Funny Questions to Ask on Instagram Story to Spark Engagement
Gone are the days when Stories were just a simple "viewing" experience. Now, creators can stimulate active engagement from their Story viewers with polls, quizzes, tappable stickers, links, and questions! We all know that making people laugh is a sure-fire way to ensure enthusiastic engagement from your audience. Keep reading for laugh-out-loud funny questions to ask on Instagram Story and other awesome ideas to make your Stories as interactive and busy as possible.
Keep Your Audience Glued to Your Instagram Story Time
Just as limited-time-only promos create a sense of excitement and urgency for consumers, the limited-time format of Instagram Stories taps into the pervasive and familiar FOMO tune — the soundtrack that most social media users dance to. This is why the platform's short-lived content can be a powerful tool to help brands boost engagement and draw more followers.

Instagram Stories offers tons of opportunities to get more likes on Instagram and make your profile busy with engagement. With the extreme popularity of Stories and to make them even more so, the platform routinely introduces new features to enhance interactivity for users. If you want to learn more about your audiences' preferences, create a poll on Instagram Stories. Promoting a new location for your store? Use location stickers! Use the quiz sticker to create brand awareness. Make a list of funny questions to ask on Instagram Story and use the question/ask us sticker to promote good vibes and positive engagement. Boost product discovery with interactive product tags. You can even tag people in your stories to get noticed by a wider audience.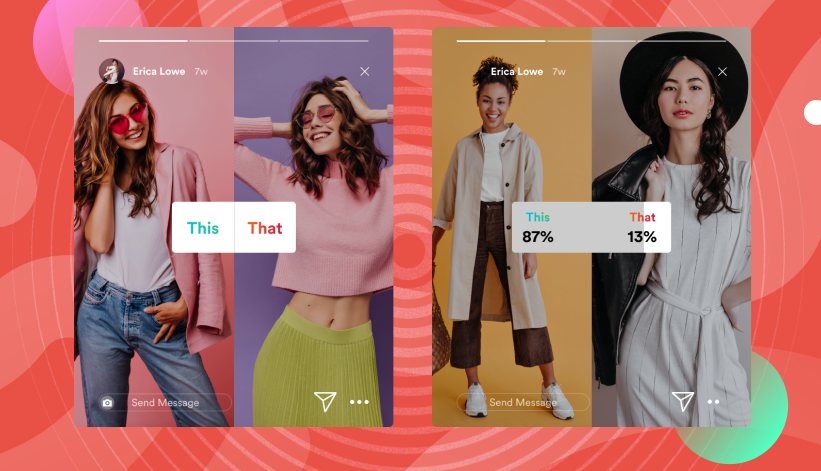 Instagram Story Stickers to Use For Your Business
Put your storytelling hat on and learn how to use Instagram Stories for your business with these key features:
A location tag/sticker literally puts your brand on the map. Use a location tag in your Stories if you have a physical store; otherwise, just tag a general location or popular landmark that's relevant to your target audience. You can also use location stickers for events or when you're traveling.
Poll stickers are a great way to start conversations and learn more about your audience.
Quiz stickers can help you generate greater interest in your brand and get people tapping on your Story to pause it and answer your quiz. You can make this part of an Instagram contest.
Use Shoppable stickers to help your audience discover your products.
Use the Countdown sticker to create excitement around an upcoming announcement or promotion.
Ask Us stickers allow your followers to find out more about you. To foster more fun, come up with funny questions to ask on your Instagram Story and other engaging queries that users will find fascinating and hard to resist.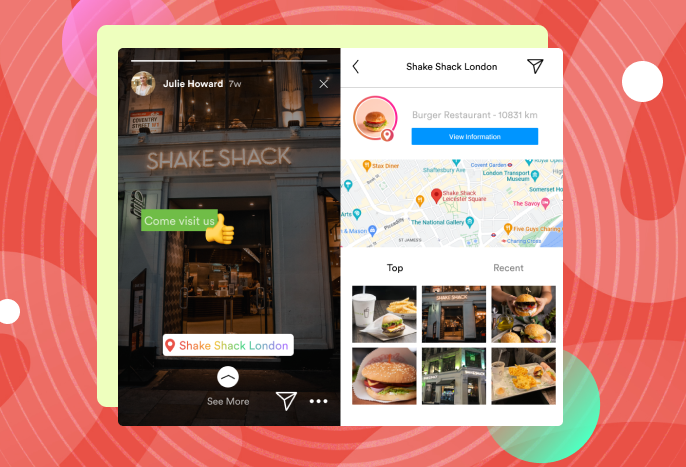 Why Ask Questions on Instagram Stories? Funny You Should Ask…
When you have intriguing or funny questions to ask on your Instagram Story, you increase your chances of receiving engagement from your followers. Asking questions on Instagram invites open, friendly, and compelling discussions. You can start a fun guessing game or go the philosophical route; you can make your audience pause and ponder; you can give them something to talk about. Questions are an effective conversation starter. Here are some ideas to get your creative juices flowing!
Curious and Funny Questions to Ask on Instagram Story: Ask Us Anything
Use the Ask Us sticker to let your followers send you their penetrating or funny questions on your Instagram Story. It's a simple but effective way to connect with your audience. They can ask you whatever they want to get to know you/your brand better; or you can set the tone and theme for the questions they can ask.
Start a Guessing Game With Funny Questions on Your Instagram Story
You can also use the Question sticker to start a guessing game with funny questions on your Instagram Story. Post a series of "Guess who?" or "Guess what?" questions together with photo clues to pique your followers' curiosity. Or you can make the guessing game more delightful with a silly or mysterious photo coupled with a funny question like, "Guess what happened after the party last night?" or "Guess whose face is under all this pie?" Aside from stimulating spirited audience engagement, you can make sure your followers will stay glued to your Stories to find out the answer!
The Flipside of Funny Questions to Ask on Instagram Story: Opinion Questions
Let your audience know that you appreciate their insights or recommendations by asking for their opinions through your Instagram Story. Ditch the funny questions to ask on your Instagram Story and give your followers something to think about, whether it's about the latest news or a great gift idea for your grandmother. If you'll be traveling, ask them to recommend good restaurants to try or hidden gems to visit in a certain area; for a quiet evening or a lazy weekend, ask them to recommend a feel-good movie, a true-crime drama, or a book from a specific genre. This avenue of questioning can also be an opportunity for you to learn more about your audience's preferences so you can craft content that will appeal to them.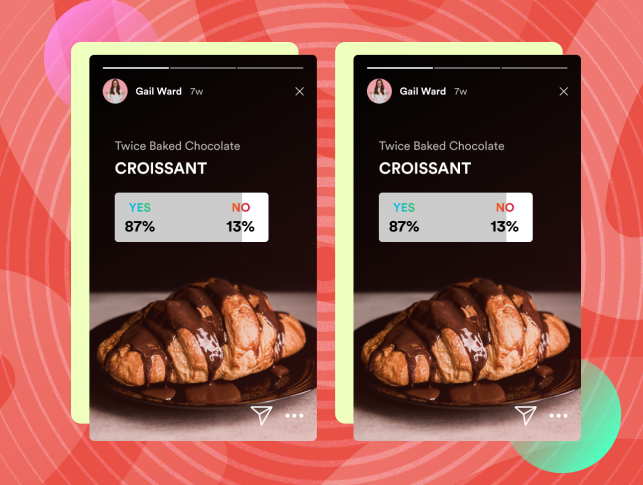 Get to Know Your Audience Questions
Why not start a weekly "All About You" themed day on your Instagram Stories? You can have funny questions to ask on your Instagram Story or just basic get-to-know-you questions that are focused on your audience. Here are some examples:
What are your weekend plans?
What are you most thankful for in your life?
What's the funniest date you've had?
What's the most hilarious thing you've seen?
What's your favorite high school memory?
What's the most adventurous thing you've done?
What's a fun fact about you that you want more people to know?
How can you sum up social media in one word?
Which animal best describes you?
What movie best describes your life?
Alternatively, you can pose simple "this or that" questions, such as "Coffee or tea?", "Wine or beer?", "Dog lover or cat lover?", "Hiking or swimming?", or "The Rock or Vin Diesel?"
Funny Questions to Ask on Your Instagram Story for Tons of Laughs
Give your followers something to laugh about as they engage with your post with these ideas for funny questions to ask on your Instagram Story:
What's the funniest joke you've heard?
What would be a funny superpower to have?
What do you think is the most useless body part and why?
If you won $1000, how would you waste it?
What silly advice would you give your 21-year-old self?
What's the dumbest thing you believed as a child?
What would be the title of a comedy movie about your love life?
What would be the funniest question to ask on a first date?
How would you describe your job? Funny answers only.
What's the funniest food review you can give?
Just like funny memes are a crowd favorite for social shares, having funny questions on your Instagram Story can give your followers their daily dose of laughter, promote positive vibes, and encourage delightful engagement. Never miss an opportunity to brighten your audiences' day; your followers will always look forward to your latest Stories and you can always expect organic and enthusiastic responses.
Final Thoughts: Have Interesting and Funny Questions to Ask on Instagram Stories to Tickle the Fancy of Your Audience
Questions require answers, and the more interesting or funny questions you ask on your Instagram Stories, the more engagement you can earn from your audience. Questions inspire thought, curiosity, and discussions, and when you combine questions with the irresistible pull of Instagram Stories, you've got a powerful formula that can deliver satisfying follower and engagement numbers.
Instagram Stories offer many more features that brands can take advantage of to accelerate their growth on the platform. For expert help, you can also team up with a growth service that has advanced audience targeting capabilities and an organic approach to content promotion — a company like Path Social. Leverage Path Social's advanced, proprietary AI targeting technology to target the right followers for your brand, and let their in-house team of social media specialists put your content in front of the right audience. Start growing and gaining Instagram followers today!
Want More Real Instagram Followers?