User-Generated Content: Maximizing Your Followers' Posts
Everybody is a content creator nowadays. With apps like Instagram and TikTok, everyone has the power to shoot chic photos and entertaining, potentially viral Reels. But did you know that you can use other people's organic content to boost your business? That's right—using user-generated content can reach more people, boost brand trust, and close more sales.
But it's not as easy as reposting someone's story about your brand. A lot of thought goes into strategizing and creating what you want your consumer-generated content to look like. And with the help of your loyal followers, you can create top-notch visual content that will wow new consumers.
So, how does UGC work? Let's get into what it is, why businesses need it, and how you can inspire your followers to create this content.
The Lowdown on UGC: What Is User-Generated Content?
Traditional advertising is slowly dying—at least in the eyes of Gen Z and other young people. They're fast becoming less and less receptive to ads in mass media and even on their favorite social media platform.
One study found that a whopping 99% of them intuitively hit "skip" when they see an ad come up. Meanwhile, 63% of them have ad blockers set up to avoid seeing these ads altogether.
This is because today, authenticity matters when making purchase decisions. Young people are cynical and wary of companies trying to make money off them. About 90% of consumers today have said that authenticity is a key factor in choosing which brands they want to support.
So, who do they trust today instead of brands? Real, authentic people. That's where UGC comes in. But what is user-generated content in the first place?
User-Generated Content: A Quick Definition
User-generated content (also called UGC) is a form of content made and posted by customers on their chosen social media platform. It's not an ad or a paid partnership with an influencer. It's organic visual content that other people make about your brand simply because they like it.
UGC comes in many forms nowadays. Something as simple as an unboxing video on Instagram Reels is considered consumer-generated content. OOTDs with new clothes, a recipe video using a specific snack and makeup reviews are all examples of UGC too.
There are plenty of ways for a business to make the most of this type of content. They can repost the visual content on their Instagram Stories or feed for people to see. And since it's an organic, spontaneous post and not a paid ad, more people will be more interested in it. They can also reward the person who made the visual content with explicit incentives to drive loyalty.
Inspiring and collecting content from your audience is a modern and effective way to get people's eyes on your brand. It taps into people's love for making content. It's all about empowering your audience and making them a part of your brand story while meeting your business goals.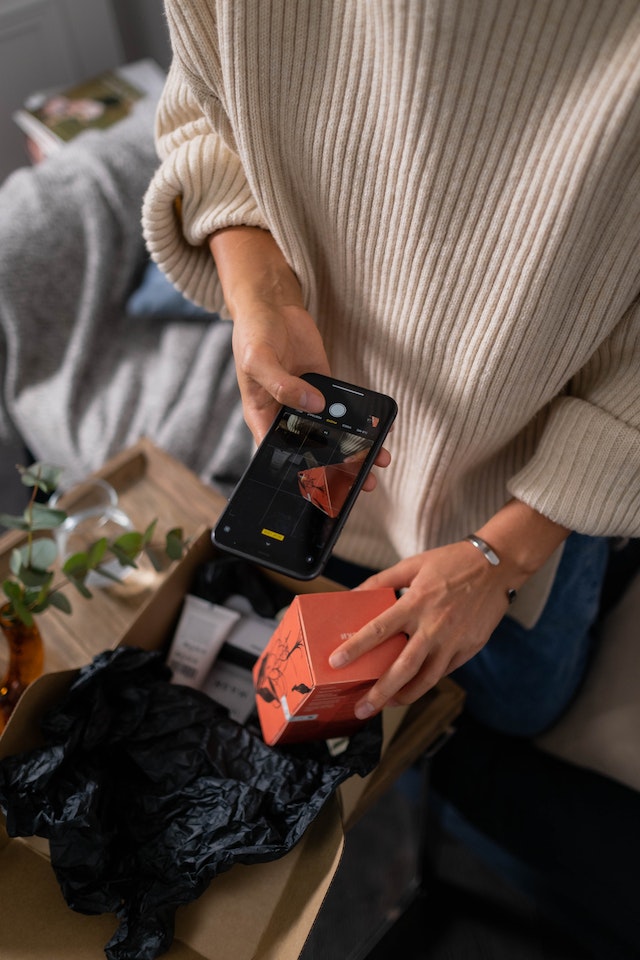 What's the Difference Between a UGC Creator and an Influencer?
It's easy to confuse user-generated content with influencers producing paid visual content for a brand. While they do have quite a few things in common, they're vastly different from each other. They also help you meet different marketing goals.
The main difference between the two is that an influencer is paid to create visual content. There's a contract involved where it stipulates that they get explicit incentives, such as money or sponsored products sent to them. It's still a paid marketing strategy.
Meanwhile, a UGC creator makes content spontaneously and out of their whim. The brand doesn't contact them or send them free stuff. It's a real, genuine customer that buys the product, tries it out and shares photos and videos of it online. This makes UGC a lot more authentic.
Influencers might even post their visual content with the "paid partnership" label on Instagram. This is an automatic signal to audiences that this is an ad in disguise.
But UGC doesn't have this label. Real people create this type of content with no explicit incentives. They only get social incentives in the form of acknowledgment from the brand or people loving their content.
Another huge difference is that anyone can make it. Customers and even employees of a business are free to make consumer-generated content, even if they have a small following. But influencer content has to be from someone with a huge following to get maximum reach.
The difference between the two may not sound too big. But trust us—the impact is insane. A Nosto study shows that 79% of consumers say user-generated content influences purchase decisions. Meanwhile, influencer posts impact only 8% of them.
The Benefits of User-Generated Content for Your Business
Sure, UGC has a tremendous impact on people's purchase decisions. But why should you prioritize user-generated content over your own professional brand photos and videos?
Here are five amazing benefits of maximizing it in your business' main social media platform:
1. It Builds You an Inventory of Beautiful Visual Content
Anyone on Instagram knows that stunning visual content is key if you want your business to grow. But aesthetically pleasing photos don't just come from professional photographers. Your average Instagram user can make stunning content as well.
By enticing followers to make UGC, you can build an inventory of visual content. You'll have loads of photos of women wearing your brand's clothes and accessories or videos of friends enjoying your food. Later on, you can repurpose this and post them on your feed.
Having a mix of professional photos and user-generated content in your feed is a terrific way to make your business stand out.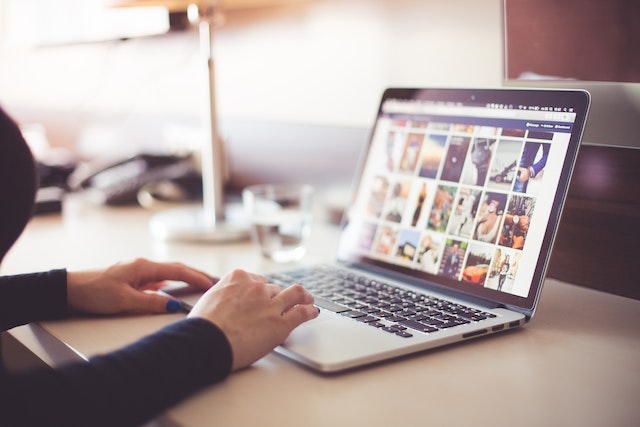 2. User-Generated Content Proves That You Are Trustworthy
As mentioned earlier, consumers nowadays don't trust ads; they trust people. And since real people—not marketers, make user-generated content—it makes more sense to listen to them. They're more authentic and reliable than paid ads.
Because people are going out of their way to make content about your brand without explicit incentives, it makes you more trustworthy. These everyday consumers have no reason to lie about your product and make it look better than it is. Think about it. Who would you trust more about a product—a TV commercial or your best friend raving about it on her Instagram Story?
3. It Shows People Your Products in Action
Some clothes can look great on fashion models and then look whack on someone else. Paid influencers can pretend to love your service even if it doesn't live up to their expectations. But UGC creators can show off your products and services in action without ever looking like an ad.
Since real, authentic people make user-generated content, they'll show and tell it like it is. Potential customers will be able to see how your clothes and shoes look on everyday people. They'll talk about what they genuinely love about your product in a raw, casual way, not through a marketing spiel.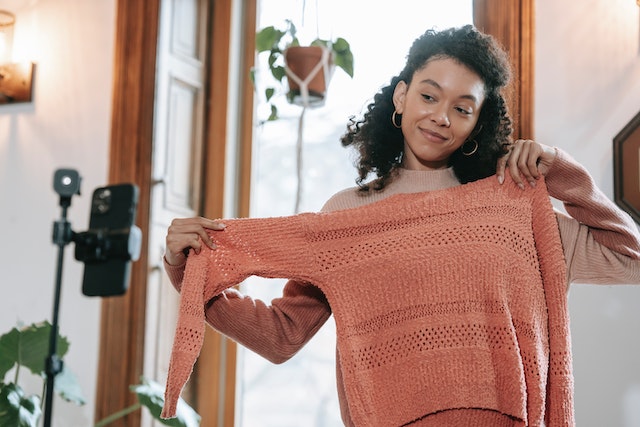 4. It Builds a Relationship With Your Loyal Followers
Acknowledging and reposting your followers' consumer-generated content makes them feel like they're a part of your brand. It makes them proud to be a part of your story and have a relationship with you.
Be sure to like and comment on their posts featuring your product. It's a great way to drive loyalty among those who have already tried your products out.
5. User-Generated Content is More Cost-Effective
If you're a small business starting out, doing a professional photoshoot with your products might be too expensive. Getting your audience to produce UGC is a much more cost-effective way to have visual content featuring your products. That way, you can use your dollars to invest in more important things, like improving your product and optimizing deliveries.
Inspiring Your Customers: How to Create User-Generated Content for Your Business
User-generated content has so many awesome benefits. But you'll never reap any of them if you don't inspire your loyal customers to make this content.
Here's how to create user-generated content to keep your brand on everyone's lips.
Create Excitement and Buzz Around Your Business
The first thing you have to do is to make your brand interesting and attractive. If your brand isn't exciting, no one is going to go out of their way to make visual content for you.
There are plenty of ways to create buzz around your brand. One way is to kick off your campaign with a powerhouse influencer to maximize their reach.
For example, get a major fashion influencer to talk about your product first. Send them your brand's clothes and strike a deal to have them do a try-on video for explicit incentives. This helps create conversation and excitement about your brand. Hopefully, it inspires the influencer's followers to purchase from you and take their photos wearing your clothes.
Another way to drive excitement for your brand is to hold an event or on-ground activation. Allow people to come to your activation and film content at cute photo spots that promote your product. Anything they post online from the event is considered user-generated content.
Designate a Hashtag for User-Generated Content
Create a hashtag that will encourage people to post UGC. This has worked for so many brands' campaigns in the past.
Many confident fashion lovers post photos in their Calvin Klein apparel with the hashtag #MyCalvins. Even Chipotle did it on TikTok with their #ChipotleLidFlipChallenge.
Put this hashtag on your Instagram page bio so people see it. That way, users can scroll through posts in that hashtag, hopefully inspiring them to make their own.
And when you need extra visual content for your feed, pick and choose from the user-generated content in that hashtag!
Give Your Team Creative Freehand to Make UGC, Too
Aside from customers, you can also get your employees to make user-generated content. They can create content to show what life is like in your HQ or a behind-the-scenes look at your latest photoshoot. Then, they can tag your brand as a collaborator when they post it, so it ends up on your feed too.
This is a great way to show your customers that there is a hardworking team of real people behind the business. It makes your brand more relatable and authentic.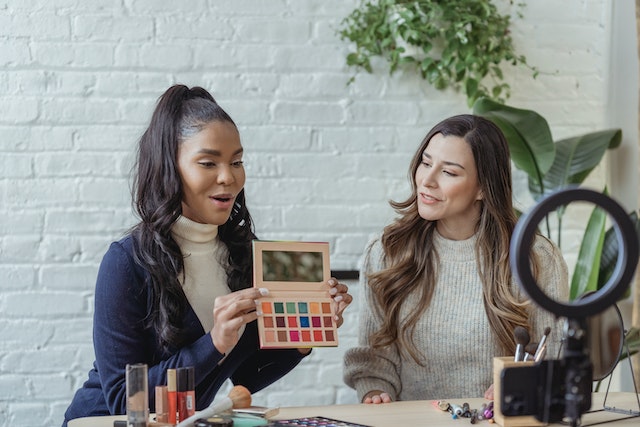 Hold a Contest To Bring In More User-Generated Content
Another way to rake in more user-generated content is by holding a contest. Ask people to post their best photos or videos enjoying your products for a chance to win a prize. Although you'll only need to give prizes to one or two people, you'll have a bank of UGC you can use in the future.
The mechanics of the contest can be super simple. Ask them to take photos while wearing your clothes or sipping your drink and post them online. If you're a musician or artist, you can ask people to make a short cover of one of your songs for a chance to win. This will already give you so much visual content to work with.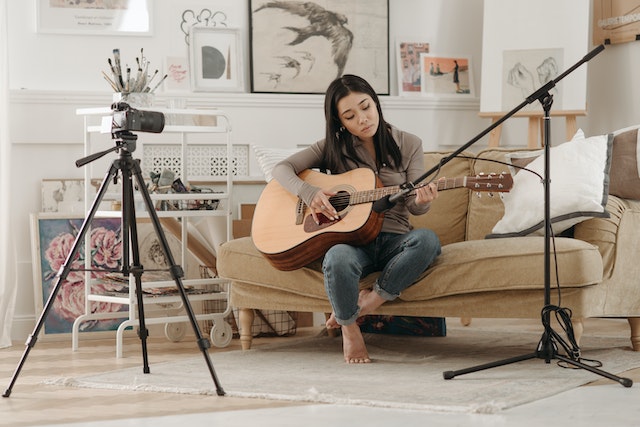 Reward People Who Feature You in User-Generated Content
Even if you don't hold a contest to get more user-generated content, always reward people who feature you in their posts.
It doesn't have to be anything too big. Even an acknowledgment from their favorite brand is enough of a social incentive for making cute visual content. Message them and tell them how much you loved their post. Consider resharing their content on your Instagram Stories and tagging them too. It's a great way to form a bond with a brand loyalist!

You can also use explicit incentives to encourage people buying from you to post about your products. For example, tell buyers to tag you in their photos with the product to get a discount on their next purchase.
Always Ask Permission Before Reposting User-Generated Content
Just because a customer creates content about your brand doesn't mean you own it. It's important to practice courtesy if you want to repost their user-generated content. Never report UGC on your Instagram feed without asking their permission first.
Not only is this professional, but it also gives you a chance to talk to your loyal buyer one-on-one. Tell them you loved the content and that you're excited to see more from them. Then, ask permission to save and repost their photos and videos on your feed.
When you do repost their visual content, make sure to credit them in the caption. This can easily be done by tagging their username. The last thing you want is to be put on blast for posting somebody else's content without their permission.
I'm a Creator—Can I Do User-Generated Content Jobs Full-Time?
While UGC is meant to be spontaneous, there are loads of user-generated content jobs on the market today. Brands hire "freelance" content creators to make visual content featuring their products and post them on their personal profiles.
The awesome thing is that you don't need a huge following to take on these jobs. You can become a UGC creator if you have a knack for making creative content. Yes, even if you have 50 followers, you can make user-generated content and get paid for it.
You'll find many jobs on online freelance platforms, such as Upwork. What's important is to weed out the brands you're not interested in and only work with the ones you want.
If you're interested in making food content, look for snack brands that want UGC. Love to travel? Look for hotels and travel agencies that need content. If you force yourself to make visual content for other niches you don't particularly like, it will show in your final product.
Make sure the content you come up with is interesting. Use funny, relatable audios for Instagram Reels and be on-point with your aesthetic for photos on the main feed. Pretty soon, you'll build up a portfolio of stunning visual content and have brands knocking at your door to make them more.
User-Generated Content Is the Future of Instagram Marketing
In a world where people are becoming more cynical about ads, user-generated content is your way into customers' hearts. Lots of brands are catching on to how effective it is for driving conversions and gaining more followers. So, it only makes sense to try out this form of content for your brand today.Aside from getting people to create beautiful visual content for your brand, you can also work with Path Social to grow your following. Our proprietary targeting tool pushes out your content to people who will be interested in it. This helps you gain more organic followers to kickstart your business. Get started and grow your Instagram community today!