Fall Instagram Posts: Capture the Beauty of Autumn on IG
Autumn is known to many as the season of red and orange leaves, pumpkin patches, cozy sweaters and caramel apples. But for social media lovers, it's also the time to make fall Instagram posts to show off the season's beauty.
There are many ways to capture the cozy ambiance and aesthetic beauty of autumn. Nature lovers might show off their photography skills by showcasing the crisp, red and gold autumn leaves on the ground. Foodies might post Stories about their daily pumpkin spice lattes and cinnamon pretzels. And fashion aficionados will probably post cozy OOTDs all autumn long.
Fall doesn't just signify a change in the seasons. It also allows content creators and brands to be more creative in their content. But aside from pumpkin spice lattes and forests with maple trees, what else can you show in your fall posts? Keep reading for some inspiration for your posts this coming autumn.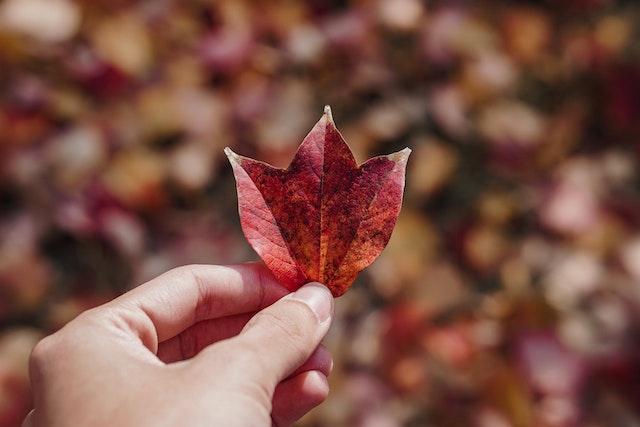 Why Build a Fall-Aesthetic Instagram Feed
For most of the year, people's Instagram aesthetic is bright, lively and fun. But autumn allows people to come up with more rustic, mellow and serene content. Thanks to the beautiful red and orange foliage that comes around only in autumn, photos are much more atmospheric, too.
Many people see autumn as their favorite season of the year. So, if you create a fall aesthetic Instagram feed, you can engage these audiences. Prettier content means more likes and comments, so fall Instagram posts can elevate your visual content and engagement.
Fall is also the time when you can get away with posting as many outdoorsy photos as you want. Even those who aren't adventurous souls will love photos showcasing autumn because of its beauty and cozy vibes. Towards the end of the season, you can also get a little festive as the holidays roll around. Seasonal content can also attract audiences and boost engagement.
In a nutshell, autumn allows content creators and brands to be more creative with their Instagram content. By celebrating this well-loved and much-awaited season, they can rake in more engagements for their posts.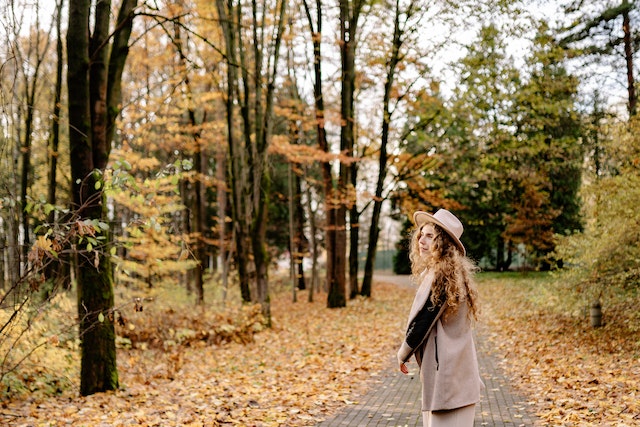 Fall Photoshoot Ideas: Play Around With These Iconic Autumn Elements
There are plenty of autumn elements you can include in your fall Instagram posts to embrace the crisp, moody season. By adding iconic autumn symbols and food to your content, you can make your audience more excited about fall.
Not sure what visual elements to include in your autumn posts? We've got you. Here are six fall photoshoot ideas to help you curate the most interesting, enchanting fall posts for your Instagram page.
1. Fall Posts With Autumn Leaves and Landscapes
Fall isn't falling without the vibrant red and orange leaves gracefully dropping to the ground. Forests and parks with trees and stunning autumn leaves are the perfect background for fall Instagram posts. Go to national parks and lakes for the best photos of fall's breathtaking landscapes.
Cute poses for these include a joyful leaf toss or a serene snap of you walking down a tree-lined road. Make sure to capture the foliage in every single photo!
When you post these fall Instagram photos, use relevant hashtags that go with the season. These include #autumndays, #fallingleaves and #loveautumn. This will make your post more discoverable to autumn lovers.
Consider adding music to your fall Instagram posts to set the cozy mood as well. Autumn-themed songs like "September Song" by Frank Sinatra and "Autumn Leaves" by BTS are great options for this.
2. Pumpkin Patch Adventure Posts
For many, fall isn't complete until they can visit a pumpkin patch to pick some pumpkins. It's a family tradition that won't go anywhere. In fact, in 2022, the top fall keywords that dominated social media were "pumpkin" and "pumpkin patch."
Don't be afraid to release your inner pumpkin patch princess and unapologetically take photos in these areas this fall. Wear scarves and hats to make your photos feel more rustic and authentic. Play around with props like pumpkin-filled wagons and picnic baskets to give your photos extra charm.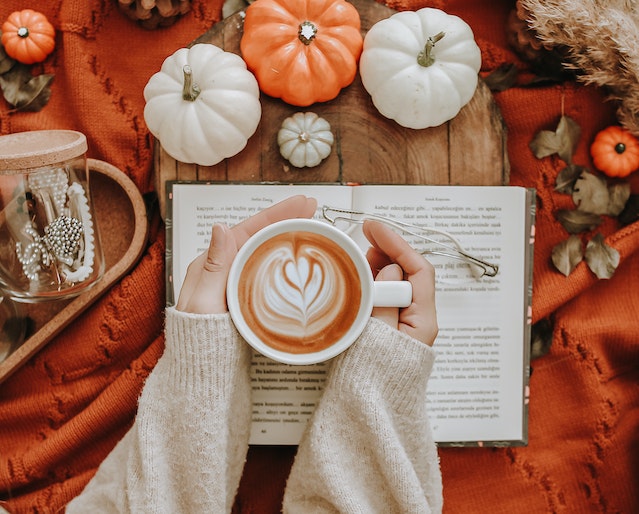 3. Insta Posts With Autumn Food and Drinks
You know autumn is coming when all the best autumn-themed food and drinks are back. Food vendors at parks will start whipping out the caramel apples and cinnamon pretzels. Meanwhile, cafes might come out with hot chocolate, mulled wine and pumpkin spice lattes—Starbucks' most popular seasonal drink.
If you run a food Instagram account, you might want to celebrate fall with content surrounding these snacks and drinks. Take stunning flat-lay photos of hot drinks and pastries side-by-side with other autumn essentials. Make the photos look as warm and inviting as possible.
You can also make Instagram Reels for tutorials on how to make these drinks and food. Show your viewers how to make fall kitchen classics like caramel apples, pumpkin pie, warm spiced cider and more.
Add food-related hashtags to these fall Instagram posts. Examples of these are #foodie, #foodporn and #foodstagram.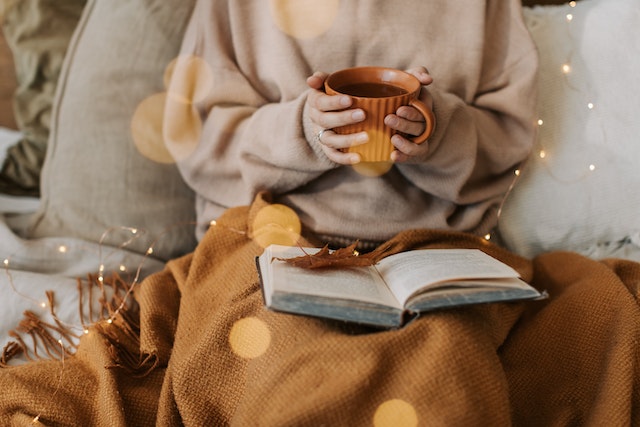 4. Add Warm, Cozy Elements to Your Fall Instagram Posts
Fall is also the season of oversized sweaters, fuzzy blankets and comfy cashmere knits. Incorporate these into your autumn posts to elicit that warm and cozy vibe that Fall is most known for.
For extra warmth and hominess, use props like candles and hot beverages. These elements feel even more inviting when they're against the backdrop of autumn rain and chilly weather.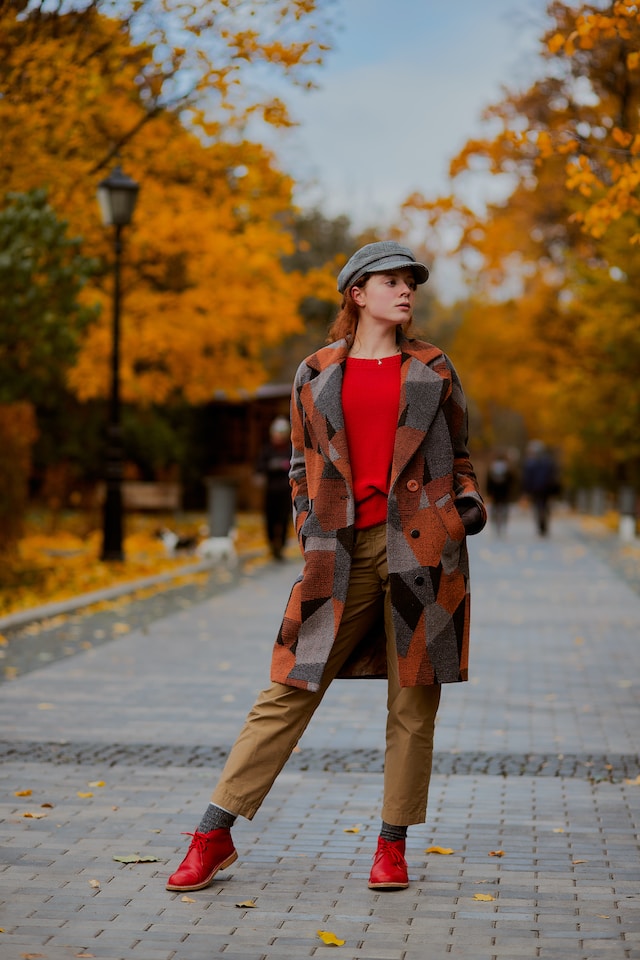 5. Posts That Put Autumn Fashion on the Forefront
Fashion influencers will likely post fall Instagram posts centered on clothes and cozy autumn outfits. The key to these posts is making your fits as cute and stylish as possible while looking comfy and laidback. Here are some tips for fashion posts during the fall:
· Layer your clothes for a warmer look. Wear sweaters and jackets over cute, comfy knit tops and some chic boots to match.
· Wear clothes in deep autumn colors, such as maroon, dark orange and brown. These shades add extra warmth to your look.
· Experiment with accessories like scarves and hats to keep yourself warm while looking fabulous.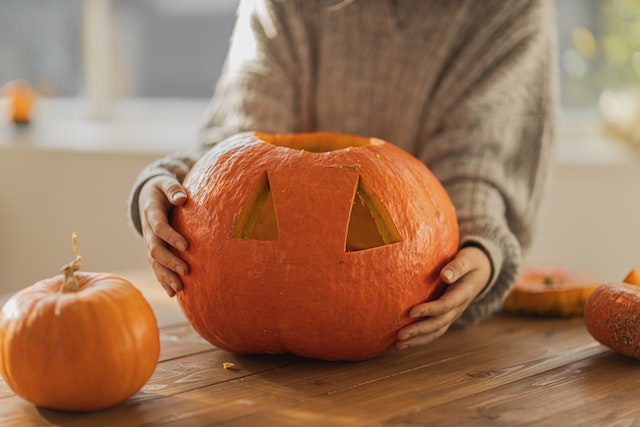 6. Spooky Halloween Photos as Fall Instagram Posts
For some, fall is less about the autumn leaves and more about their favorite spooky holiday—Halloween. If this sounds like you, consider doing Halloween-themed fall Instagram posts. Use props like carved pumpkins and Jack O' Lanterns, and wear your favorite costumes for the shoot!
For this photoshoot idea, ditch the parks and lakes and go for the woods, cemeteries and haunted houses. Pumpkin patches are also great spots for Halloween photos, especially at night. Don't forget to place candles inside your carved pumpkins for that spooky glow!
Be as creative as you want with Halloween photo poses. Recreate iconic Halloween movie characters and do some action shots for fun and spooky content.
Experiment With the Best Fall Filters on Instagram
Instagram filters are amazing for bringing out the colors in your photos to set a specific mood. They can make your photos look lively and bright or more muted. During the fall, filters can add a warm tone to your photos to capture that cozy autumn vibe.
Using filters on your fall Insta posts is a terrific way to enhance them while saving time. They're super convenient for those who aren't well-versed in photo editing. Just upload your photo, slap a pretty fall filter on it, and post it. That way, posting on Instagram won't take away time from you enjoying autumn.
Here are some of the best fall filters on Instagram:
· Juno: This classic filter is known to amplify the warm tones in photos while adding a subtle glow to them. It adds an intense yet inviting vibe to fall photos—especially ones with tons of red and gold leaves. The Juno filter is also one of the most flattering selfie filters on the platform.
· Valencia: If you're going for a vintage look for your fall posts for Instagram, Valencia will be your best friend. It adds a yellow tone to photos, as well as a subtle vignette. It helps create amazing, nostalgic photos you'll want to look back on for years to come.
· Reyes: This filter creates an airy, faded look on photos. It's perfect for those who want to create a serene, relaxing vibe in autumn posts while keeping the colors intact.
· Moon: For a moody, edgy fall post, try Moon—Instagram's black-and-white filter. It's perfect for those who want to go against the grain and post subdued fall content. This filter looks stunning on photos shot in the woods. It's giving Folklore and Evermore by Taylor Swift!
Fall Instagram Captions for Your Cozy, Seasonal Posts
Sure, stunning visuals, cute photography and selfie filters can aesthetically make or break your content. But they're not the only things that can make your fall Instagram posts interesting. It's also important to craft engaging, relevant fall Instagram captions to highlight the season. With good captions, posts can get higher engagement rates, too.
Of course, everyone's fall captions will differ according to the ambiance they want to convey in their posts. If you want to evoke poetic, exciting or tranquil emotions in your audience, use your caption to do it.
Not sure what to write in your captions for your autumn posts? We've got you. Here are three different types of captions you should consider adding to your fall photos and videos.
Be Poetic With Famous Fall Quotes for Instagram
If you want your fall posts to be more poetic and thought-provoking, borrow famous fall quotes for Instagram. Look through your favorite poetry books that talk about the beauty of fall. Just make sure to credit the quote to the poet who originally spoke those beautiful words.
Here are some popular quotes about fall that you might want to add to your fall captions:
· "To Autumn, the season of mists and mellow fruitfulness." – John Keats
· "I love the fitful gust that shakes the casement all day. And from the glossy elm tree takes the faded leaves away." – John Clare
· "The trees are in their autumn beauty. The woodland paths are dry. Under the October twilight, the water mirrors a still sky." – William Butler Yeats
Poetic quotes like these, although mesmerizing, can feel a bit old and dated sometimes, especially for younger audiences. For a modern, personal touch, don't be afraid to use emojis after the quote. Some popular emojis for autumn include falling leaves, trees and coffee.
Add Descriptive Imagery to Your Fall Posts' Captions
Not every place in the world experiences autumn. So, try to make your followers feel like they're enjoying the fall atmosphere with you through your captions. Write captions that are descriptive and perfectly depict your visual content in words. If you can, add a cozy touch to your caption, too.
Here are some examples of descriptive captions for fall Instagram posts:
· "Walked through the most stunning fall foliage or red, orange and gold leaves today."
· "There's nothing like basking in the crisp autumn air while sipping on a piping hot pumpkin spice latte."
· "Listening to the pitter-patter of the autumn rain while curling up with a good book to start the fall season."
Descriptive captions like these aren't just good for landscape photos. You can also use them as selfie captions if you take a photo of yourself with stunning fall foliage in the background.
Share Personal Reflections on the Changing Seasons
Get a little more vulnerable with your audience by sharing your reflection about the change in season. This doesn't just make your post more interesting. It also builds an emotional connection and bond with your followers when they see you opening up about your feelings.
You don't have to share your deepest, darkest secrets in your fall Instagram posts. The key is to share poignant, sincere thoughts that will make your followers' hearts melt a little. Here are some captions that perfectly encapsulate this purpose:
· "My daughter's sixth autumn. In a few years, our pumpkin patch princess will be too grown up to spend time with us during the fall. Time really does fly…"
· "Autumn shows us that things can still be beautiful when they fall and end."
· "The cold and quiet of fall reminds me that being alone can be nice, too."
· "Just like the falling autumn leaves, I'm changing and re-inventing myself."
Give Your Fall Instagram Posts a Leg up With Path Social
Autumn is a season but also an aesthetic in itself—one that many creators look forward to every year. It is one of the most exciting seasons to make Instagram content for. You can take cute OOTDs and selfies in the prettiest parks or produce Reels about your fave autumn drinks. Paired with the right filters and captions, posts about fall can take off and get lots of traction.
Want more people to see and interact with your fall Instagram posts? Work with Path Social to boost reach and engagement for your autumn content. Our advanced AI algorithm helps push your content to your target audience, giving you more views, likes and comments. Just sit back and sip on your chai tea latte and enjoy autumn while we do the work for you. Grow your Instagram community today with our help!