How To Change Font on Instagram for Unique Bios and Captions
There are plenty of ways to express yourself on Instagram. You can post all sorts of vibrant and weird photos to show off a unique aesthetic on your feed. You could even play around with interactive stickers on your Instagram Stories for extra quirkiness. Or, you could learn how to change font on Instagram and wow your followers with fancy fonts and cool symbols.
Changing your fonts on the social media platform doesn't require you to download third-party apps or custom keyboards. All you need is a trusty Instagram fonts generator, and you're good to go. In mere seconds, you can turn your regular Instagram text into a paragraph with cool fonts and Unicode characters.
Ready to spruce up your post captions and bio with unique custom fonts on Instagram? Keep reading to learn how to do it for every situation.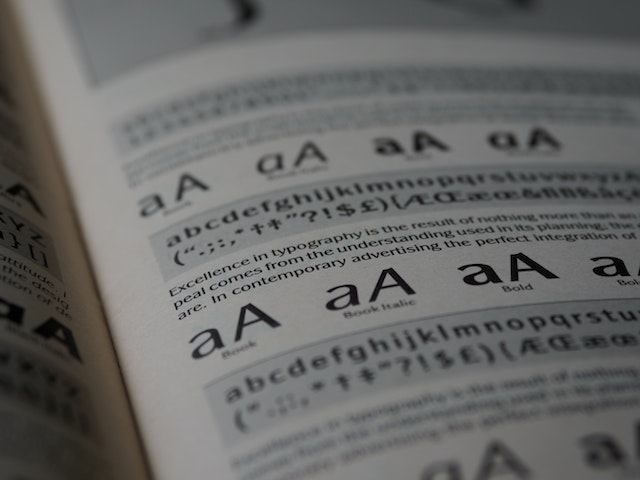 How To Change Fonts on Instagram Posts for Stories
Now, don't get us wrong. Instagram still has a lot of cool fonts available on the social media platform. They're just not available for every feature on the app. One type of content that has tons of fancy fonts to choose from, however, is Instagram Stories.
There are plenty of fonts available on Instagram Stories. There are classic fonts like the default Story font and Comic Sans. But there are also fonts with more personality, such as the cursive Neon font and the nostalgic Typewriter typeface.
How to change fonts on Instagram posts for Stories is super easy. Just open up the Story Editor and upload your photo or video. Then, add your text. While you're typing, you'll see different typefaces dotted below the screen. You can swipe through all these cool fonts to choose the best one that will fit your Story post's vibe.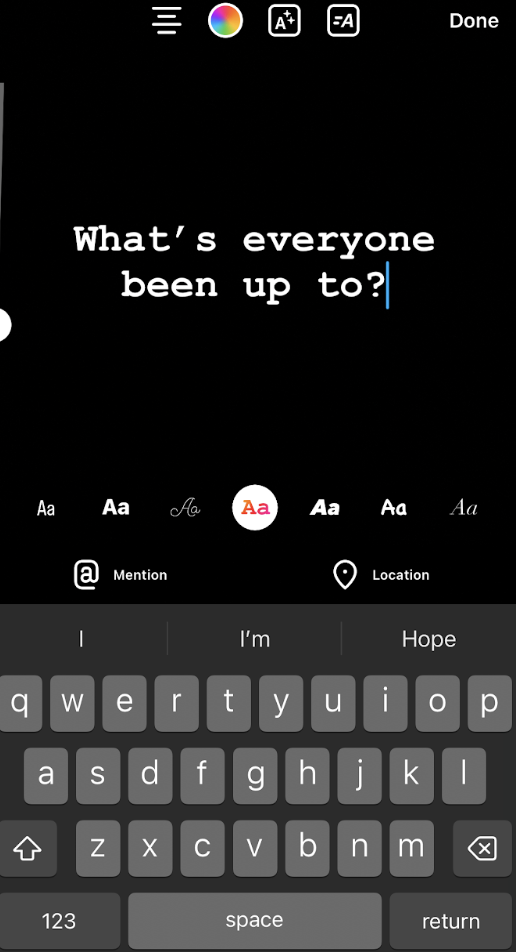 Playing With Fonts Using an Instagram Font Generator
Instagram Stories might be blessed with a plethora of fancy fonts to choose from. But we can't say the same for other Instagram features that include text, like post captions or your Instagram bio. The font Instagram uses for these—a typeface called Instagram Sans—is standard across the social media platform.
So, if you want to change your font for a few post captions or your bio, you need to use an Instagram font generator. There are plenty of these across the internet. But one that we highly recommend is Path Social's free Instagram Fonts Generator.
Our special generator has over 100 cool fonts for you to choose from. These fonts will be great for standing out and expressing yourself online in a creative way.
Using the generator is super easy. Simply type your original text in the box at the top of the page. As you type, you'll see your text displayed in every fancy font we have. Go through all these cool fonts until you find the one you want to use. Click "Copy text," and then paste it wherever you want.
We know people love using our generator for their Instagram bio. So, we simulate what your text will look like on a bio on the side of the screen.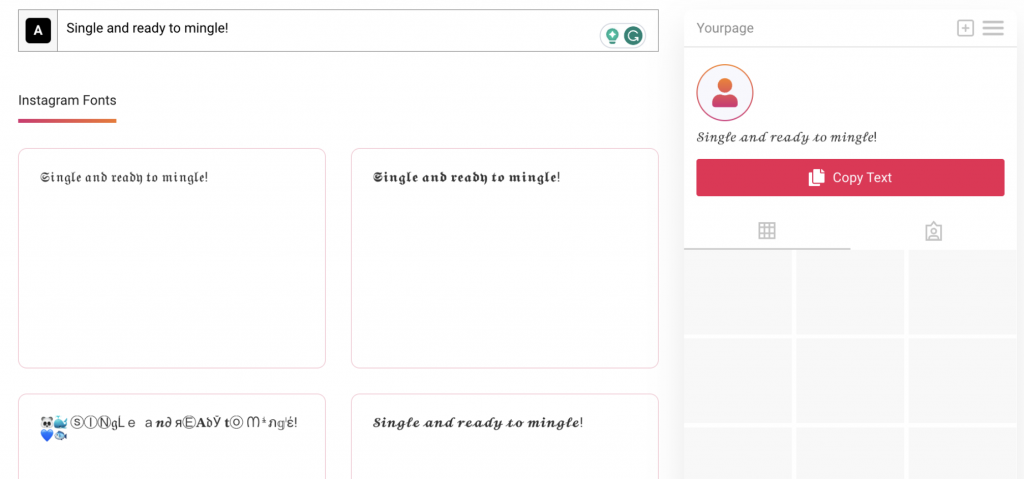 Why Go the Extra Mile of Changing Your Fonts for Social Media?
Now, you may be asking—why is it necessary to go through the extra step of using a font generator? Why do you need to change your font before posting on Instagram?
Well, it's not actually necessary at all. But it's a fun way to make your text stand out if you're someone who loves to express themselves. And studies show that people who express themselves authentically on social media are happier in life. So, why not go the extra mile for cute fonts?
Charming custom fonts add extra visual appeal to your caption, which can otherwise look plain and boring. It can also aid in your branding if the font you choose is aligned with your personality and styling.
Fancy fonts also help a lot when it comes to storytelling, especially in longer captions. There's no option to break your post captions into headers and subtext. But with an Instagram fonts generator, you can use different fonts to split your caption into smaller sections with headers. You can also use text in these cool fonts to emphasize certain parts of your story.
Changing Fonts on Different Parts of Your Profile or Feed
Now that you know how to use the Path Social font generator, it's time to put it into practice. Two common ways to use it are in post captions and the Instagram bio. Here's how to use our plethora of fancy fonts and Unicode characters for each situation.
Spruce Up Your Posts: How To Change Font on Instagram Caption
Want to catch people's attention right away when they see your post caption? Here's how to change fonts on Instagram captions to entice people to read more of them:
1. On the Instagram home screen, click the plus icon to create a new feed post. Then, upload your photo or video.
2. Instead of typing your caption in the space provided, open your browser and head to Path Social's font generator.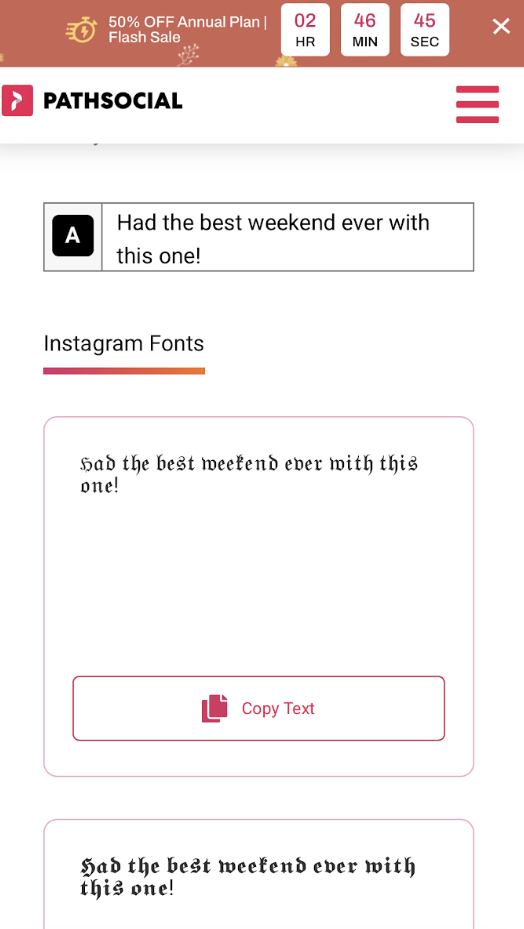 3. Type your caption in the textbox on the generator page.
4. Select the font you want to use for the caption and click "Copy text."
5. Then, go back to the Instagram app and paste it into the textbox. Personalize your caption with extra emojis if you want.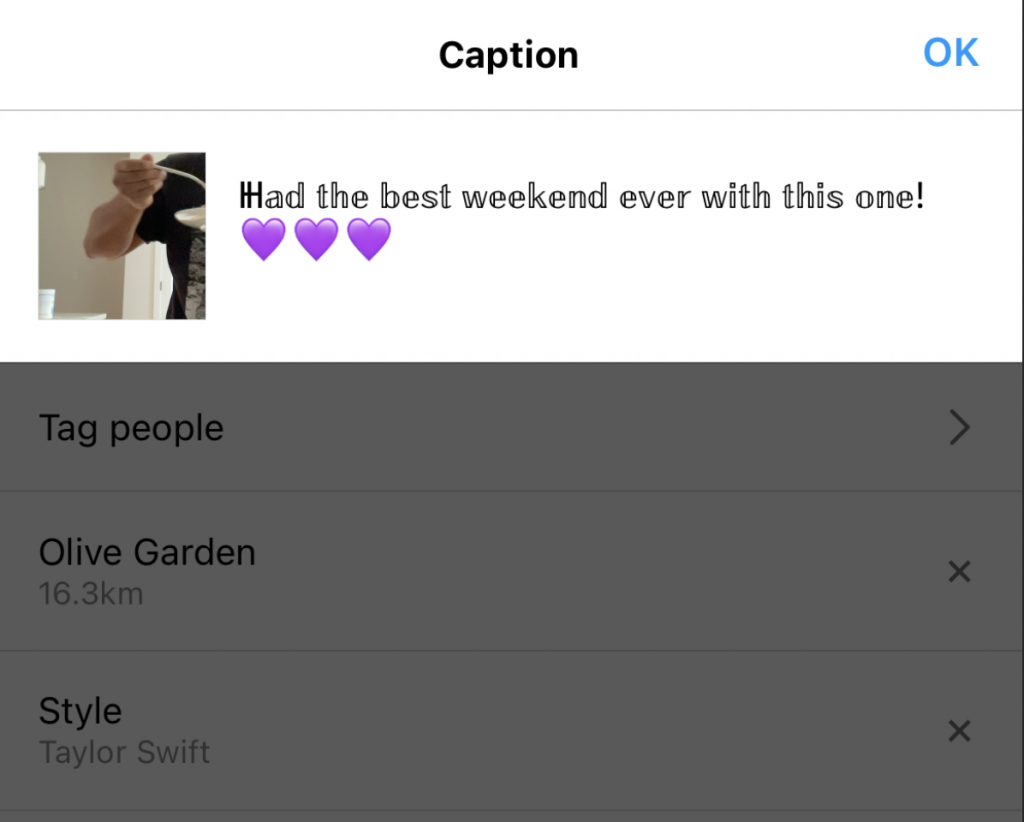 6. Double-check everything, and then publish the post!
Make a Good First Impression: How To Change Font on Instagram Bio
Personalizing your Instagram bio is a great way to make a first impression and potentially reel in new followers. Here's how to change font on Instagram bio to grab people's attention as soon as they open your profile:
1. Go to your Instagram profile and click "Edit Profile" below your current bio.
2. Click on the textbox to edit your Instagram bio.
3. Again, instead of typing the bio you want on the app, switch over to Path Social's font generator. Type your bio there.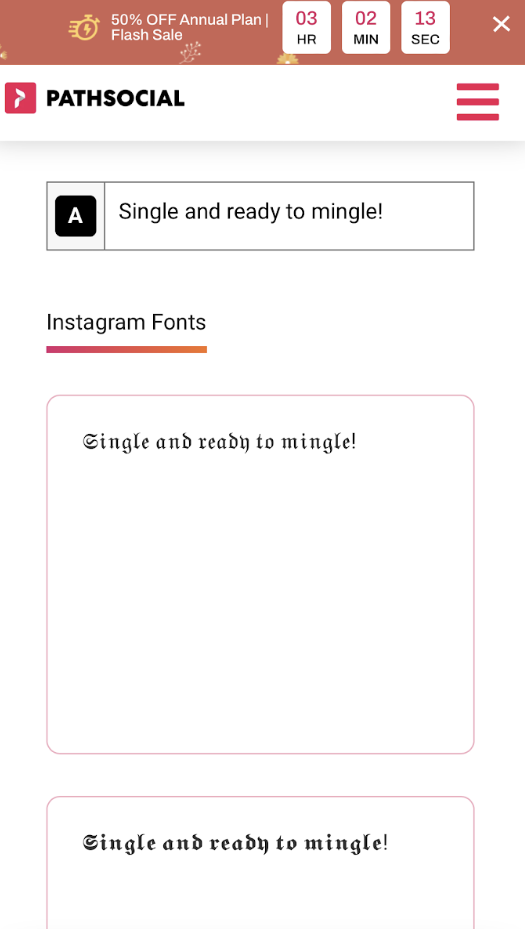 4. Choose the font you want your bio to be in and then hit "Copy text."
5. Go back to Instagram and paste it to your bio textbox. Add some emojis and extra information, and then click "Done."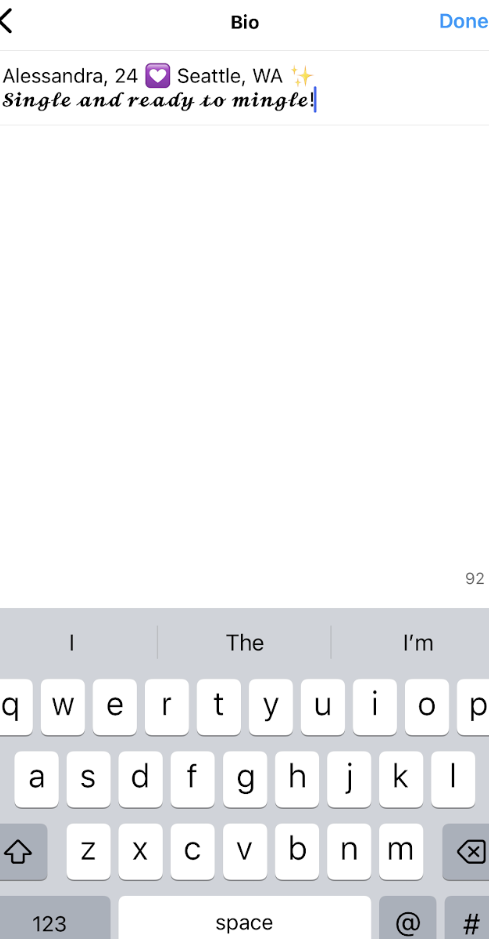 Get Creative With Your Instagram Fonts With the Path Social Font Generator
Switching up your Instagram fonts from time to time is a terrific way to express yourself creatively online. Instead of settling for the same font everyone else uses, consider posting texts with fancy fonts and Unicode characters. It's a great way to catch people's attention fast, whether it's on your latest post or your Instagram bio.
Now that you know how to change fonts on Instagram, it's time to show people what you've got. Use your new, cool fonts from Path Social's Instagram Fonts Generator to make captivating captions for your posts.
Then, use our growth services to help push your content out there for more people to see and appreciate. Our proprietary algorithm serves your content to your niche audience, bringing in tons of engagement and new followers. Experiment with custom fonts and grow your Instagram community with us today!