How To Laugh React on Instagram for Good, Positive Vibes
Emojis make it ten times easier to convey emotion in the digital sphere. Instead of having to articulate how you feel in paragraphs, you can simply send a crying face or heart emoji. One of the best emojis to express yourself with, especially in fun, light-hearted situations, is the laugh emoji. Today, we'll show you how to laugh react on Instagram, whether it's on Stories or direct messages.
When you see content that makes you giggle or laugh your heart out, it's natural to want to say something. Maybe you want to tell the person who posted it that they're witty and creative. It's a great way to show appreciation for their humor. But if you're short on time, you can always use laughing emoji reactions to convey this message.
Ready to spread positivity and laughter on Stories and messages with emojis that depict joy and amusement? Keep reading to learn how to do it.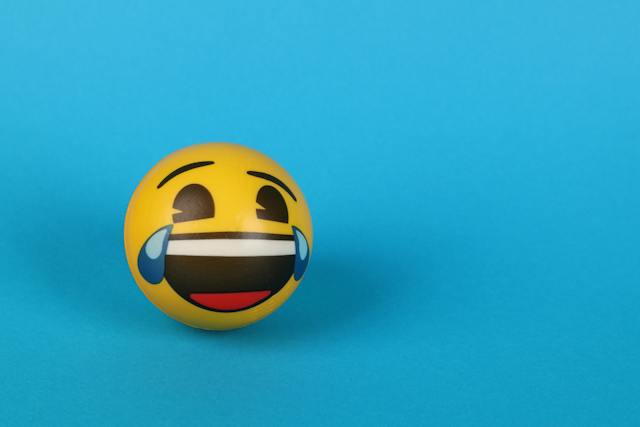 The Laugh Emoji: Let Someone Know You Think They're Funny
There are plenty of emoji icons you can use to express laughter online. According to CNN, many young people use the crying emoji and skeleton emoji to convey joy and laughter. Meanwhile, others have gotten so used to texting slang abbreviations like "LOL" and "LMAO" when they find something hilarious.
But there's nothing that beats the classic laughing emoji icon. This well-known face features a wide, laughing grin and tears streaming down its cheeks. It's the universal way of telling someone, "Hey, what you said was super funny!"
Sure, you can always just type out a "hahaha" or "ROFL" to express how funny you find someone. But using a cute crying emoji makes your expression that much more animated and livelier. It's a terrific non-verbal way to make a connection with someone who is trying to get you to giggle.
Reacting to someone with a laughing emoji also reinforces positivity, fun, and lightheartedness in the digital space. The best part is it's quick and effortless to do. You just need to click on a few buttons to laugh react to an Instagram DM or Story.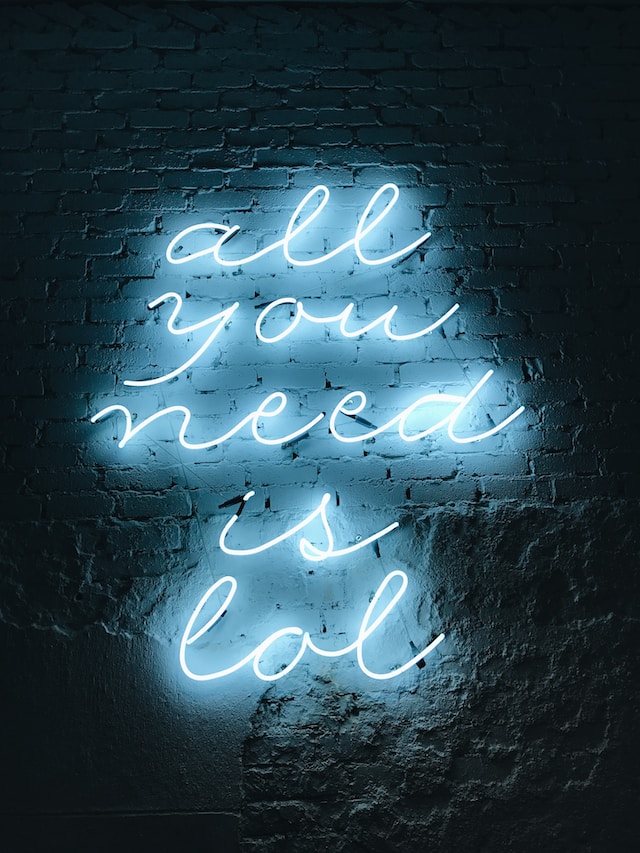 How To Laugh React on Instagram Stories
First, let's take a look at how to react to someone's Instagram Stories with the laughing emoji icon. Maybe someone you follow posed a funny question on their Stories that made you laugh. Or perhaps they posted a hilarious video of themselves. How do you "laugh react" to these posts?
If you see one of your closest friends post these, you might reply to them directly. But if it's an acquaintance or someone you're not that close to, a laughing emoji can suffice. That way, you can show them how funny you find the post without having to start a conversation with them.
Instagram has a built-in emoji reaction feature that allows you to react to a Story with a specific emoji. You can choose between six emojis to react with, namely the laughing, surprised, heart eyes, crying, clapping, and fire emojis. Here's how to use the laughing emoji reaction on Stories:
1. First, open the Instagram Story you want to react to. You can do this by clicking on the user's Story at the top of your Instagram homepage. You can also visit that specific user's profile and click on their profile photo to watch their Story.
2. When the Story is open, swipe up on your screen. The six default reaction emojis should pop up.
3. Click the laughing face emoji. When you do this, the whole screen should fill up with that emoji. You'll also see a message in the center of the screen that says, "Reaction sent."
4. The reaction will be sent to the original poster's direct messages. If they reply to your laugh react, you can carry on a conversation about how you found the post funny.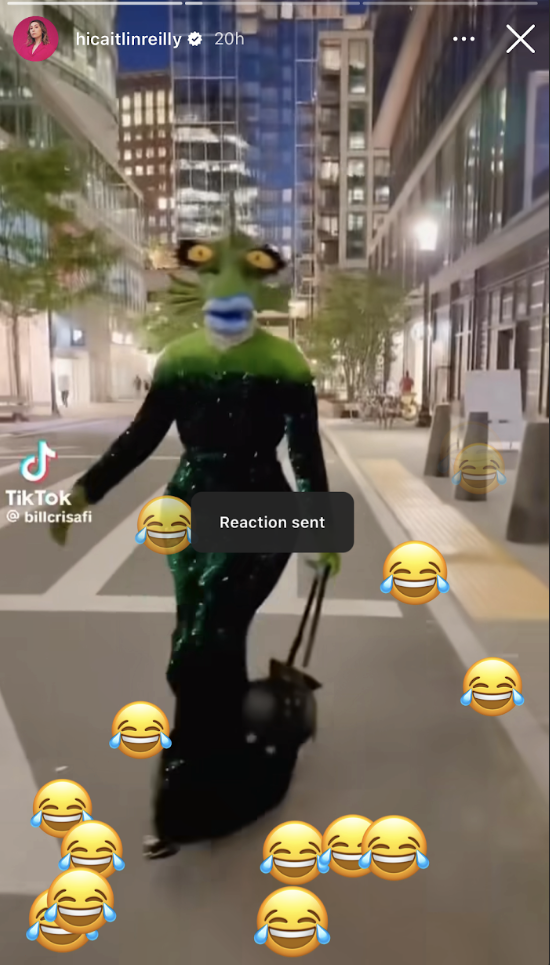 How To React to Messages on Instagram With the Laugh Emoji
You can also use the laughing emoji to react to funny, direct messages in your inbox. You can do it for ordinary texts or even for funny Instagram Reels a friend has sent you through DM.
The fastest way to react to an Instagram DM is by tapping the message twice. This allows you to "like" the message, which is synonymous with reacting to it with the default heart emoji.
However, this reaction isn't appropriate all the time. If you see something that makes you laugh uncontrollably, you might want to use a laughing emoji reaction instead. Here's how to react to messages on Instagram with the laughing emoji, step by step:
1. Go to your Instagram inbox and open the direct message you found funny and want to react to.
2. Instead of double-tapping the message, tap and hold it instead. A couple of default reaction emojis should pop up.
3. Click on the laughing emoji in the default reaction list. If you're looking for a specific laughing emoji that's different from the default reaction, click the plus sign. This will show you a list of emojis to choose from. Find the laughing emoji icon you prefer and click it.
And that's it, you're done! You'll see the little laughing emoji underneath the message you reacted to. Your laughing emoji reaction will notify the person who sent you the direct message.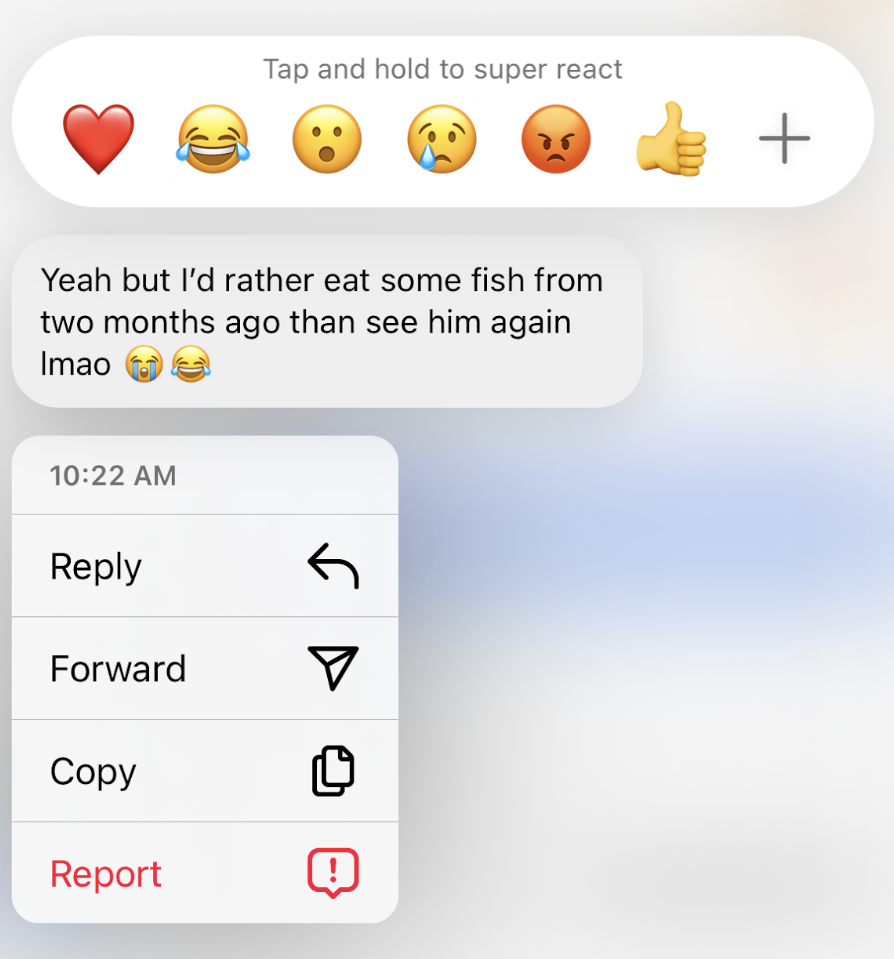 Another Fun Way To Get Laugh Reactions: The Emoji Slider
Now that you know how to laugh react on Instagram DM, you might want to get your own laugh reactions. One fun way to do it is by using the emoji slider on your funny Instagram Stories.
The emoji slider is a popular interactive Story sticker on Instagram. With the laughing emoji scale as a gauge, you can see your audience's opinion or feedback on something. Here's how it works:
1. From your Instagram home screen, swipe right to open the Story Editor.
2. Create the Story you want to post. Feel free to add photos, videos, music and more.
3. Open the sticker tray at the top of the screen and add the emoji slider sticker.
4. Choose the laughing emoji from the list of emojis that appear on the screen.
5. Write a question or prompt on the sticker. This is the question your audience will answer through the emoji scale.
6. Reposition and resize your emoji slider sticker on your Story the way you want.
7. When you're done, publish the Story and wait for your followers' answers to roll in. Instagram will show you the average position of the emoji on your scale.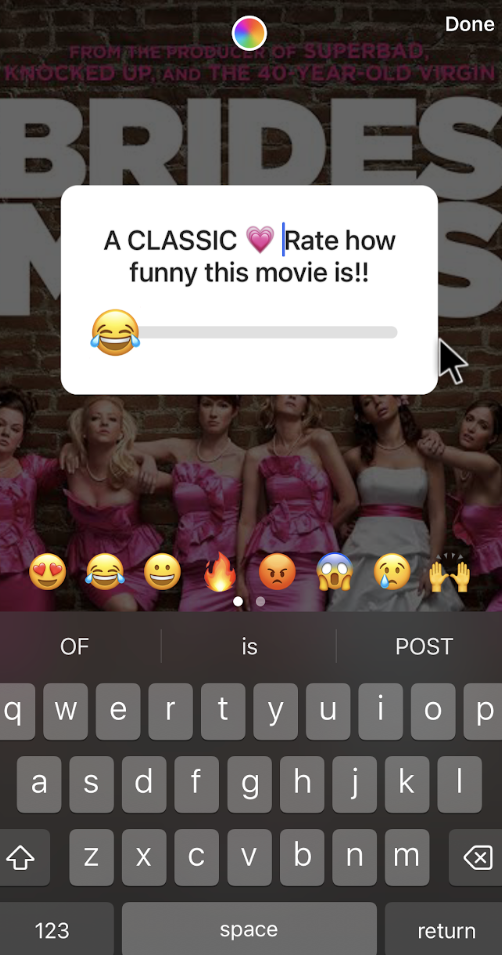 What Kinds of Story Posts Get More Laugh Reacts?
Want to get laugh reactions on your posts and Stories, too? The key is to keep posting hilarious, comical, and entertaining content your audience will love.
There are plenty of content types that are prone to getting more laugh reactions than others. Here are some posts you should consider uploading on Stories to gain more laugh emoji reactions:
Silly anecdotes: Want to share a funny experience with your friends and followers? Do a vlog-style Instagram Story retelling your embarrassing but endearing anecdotes and personal experiences. This can humanize you as a content creator and get your followers laughing their socks off!
Memes: Trendy, funny memes never fail to make people chuckle. Repost your favorite memes to your Story to get your followers to laugh. If you're creative and have editing skills, you can even make your own memes and post them. Then, watch the laugh reactions come rolling in.
Funny Reels: If you come across a hilarious, relatable Reel you think is relevant to your audience, share it on your Story. Skits and pranks are also some of the funniest pieces of content on Reels.
Iconic comedy scenes: Repost some of the best comedy gold on TV and film on your Stories. Not only will this get your followers giggling, but it will also evoke a sense of nostalgia for the show/movie.
Puns and creative wordplay: If you're a witty writer, share some silly puns on your Story. Sure, some people may think that these are corny dad jokes. But someone is bound to have a good laugh and appreciate your humor when you do this. The worst-case scenario is that they laugh react to your Story because of how adorkable your pun was! A laughing emoji reaction like that is still a plus in our books!
Push Out Hilarious Content and Get More Laugh Reacts With Path Social
There are plenty of ways to show how much you appreciate someone's fun humor on Instagram. You can use laughing emojis to react to witty Instagram DMs and entertaining Stories. If you want to let someone know that you like their hilarious posts, don't hesitate to use these emoji reactions. It will surely brighten up their day!
Now that you know how to laugh react on Instagram, you're probably wondering how to get laughs on your content. Aside from churning out playful content, it's also important to get your content in front of your audience.
At Path Social, we search high and low for the people most likely to interact with your posts. Then, we push your content to their feed. That way, more people see it and even give emoji reactions to your hilarious Stories. The best part is that you'll get tons of new followers from our system, too. Start growing your community and making people laugh today!